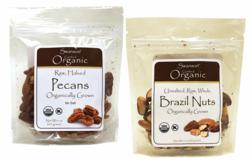 Fargo, ND (PRWEB) September 14, 2012
When a food is deemed "organic" this simply means it is grown without the use of pesticides and synthetic fertilizers. For foods to qualify as "USDA Certified Organic," the products must have been grown and processed according to USDA National Organic Program standards. The Swanson Organic line from Swanson Health Products features over 100 different oils, nuts, seeds, spices, dried fruits, teas and more which are all USDA Certified Organic.
The two most recent additions to this line, pecans and Brazil nuts, are salt free, preservative free and because they are organic and raw, they are not irradiated or pasteurized. Enjoyed in moderation, these nuts offer many health benefits:

Swanson Organic Brazil Nuts: feature selenium, monounsaturated fatty acids and vitamin E. They are packed fresh in their raw form with no additives and are a naturally gluten-free food.
Swanson Organic Raw, Halved Pecans: feature more than 19 vitamins, minerals, antioxidants, fiber and protein. They contain no added salt or preservatives, and are simply shelled and halved.
Swanson Health Products is an industry leader in bringing vitamins directly to consumers at the lowest prices possible. Swanson Health Products, headquartered in Fargo, ND, offers the highest quality vitamins, supplements and natural health care products and is Good Manufacturing Practices certified. Swanson Health Products goes a step beyond its competitors by offering powerful guarantees. All products are backed by a 100% Satisfaction, Money-Back Guarantee. For more information, please visit http://www.swansonvitamins.com.