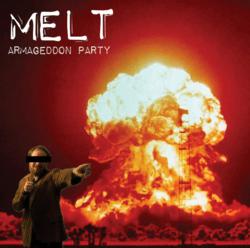 "Lead vocalist Lindsey Kyte showed a vocal range born to meet any occasion, easily shifting from sultry to choral to shouty depending on the mood of the song. Her range was amazing" - Deli Mag (Live Review)
Boston, MA (PRWEB) September 14, 2012
Hot on the heels of their sophomore release, "Armageddon Party," Boston based band, Melt has scheduled 3 upcoming performances:
Saturday, September 15th - 8:00pm
The Cantab Lounge
738 Mass. Ave
Boston MA 02139
with special guests: Kelly Spyglass, Mistrence, and Faebotica
Friday, October 5th - 8:00 pm
Gulu-Gulu
247 Essex St
Salem MA 01970
2 FULL SETS!!!!
Saturday, November 10th - 8PM
National Epilepsy Foundation benefit
"Bands for Brad"
Rosebud
381 Summer St
Somerville, MA 02144
with special guests: Lizzy Borden, Emmy Cerra, Katie Stodder
Emcee: Danny Martignetti from WMFO's "The Lounge"
All money raised for the night will go to the foundation, and donations will also be raised via: http://giving.epilepsyfoundation.org/goto/bandsforbrad
Tickets: $10
On their sophomore release, "Armageddon Party," Melt incorporates a variety of styles and melds them together, combining elements that are dynamic and jarring, yet still accessible and melodic. Likened to Siouxsie and the Banshees, Evanenscence, and Portishead, Melt exhibits the ability to transition flawlessly from foreboding and heavy to sweetly melodic. Live, Melt are often joined by classically trained multi-instrumentalist Mel Fitzhugh, sitting in on several songs, adding violin, glockenspeil, and even trumpet.
Melt's "Armageddon Party" is a hard-edged collection of wit, humor and integrity, with soaring vocals, sparkling guitars, and thunderous bass and percussion. "Armageddon Party" is sure to attract fans of the tensions that are trademarks of goth and punk.
Melt keeps that tension building with dynamics that swell to big crescendos. Dan Inzana's guitar sound is a combination of alternative and atmospheric, while still maintaining a soaring driving feel, and Ben Lyons' and Paul Pipitone's versatility on drums and bass, respectively, bring rhythms from all over the globe while sounding authentic and powerful. Lead vocalist Lindsey Kyte seamlessly transitions from a Cherie Currie toughness to the haunting style of Amy Lee throughout "Armageddon Party," putting a spotlight on her choral and theatrical background.
The fast-paced "Draggin' Me Down" is the highlight of this 7-track EP. It rocks from the title track--the dark carnival that is the "Armageddon Party"-- to the brooding, "Sleeping Butane," closing with a bonus live track, "Glory Box."
Melt is Paul Pipitone (bass), Dan Inzana (guitar/keys), Ben Lyons (drums), and classically trained soprano Lindsey Kyte (lead vocals). "Armageddon Party," Melt's second album, was recorded at 1867 Studios with Chris McLaughlin (Mean Creek, Township).
You can learn more about Melt and see their latest show dates on their website at meltmusicrocks.com
For more information on these events or to schedule an interview, please contact Melissa Zeigler: melissa(at)powderfingerpromo(dot)com