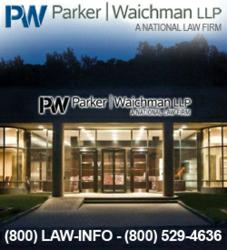 New York, New York (PRWEB) September 17, 2012
Parker Waichman LLP, a national law firm dedicated to protecting the rights of victims injured by defective medical devices, has filed a lawsuit on behalf of a woman who suffered a serious injury, allegedly due to two transvaginal mesh products manufactured by Defendants C.R. Bard, Inc. and Boston Scientific Corporation. The suit was filed on July 12th in the U.S. District Court for the Southern District of West Virginia, Charleston Division (Case No. 2:12-cv-3107) where it is one of many cases pending in the multidistrict litigation entitled "In Re: C.R. Bard, Inc., Pelvic Repair Products Liability Litigation (MDL No. 2187).
According to the Complaint, the Plaintiff was implanted with the Bard's Avaulta Plus Anterior BioSynthetic Support System and the Advantage Fit System in October 2009 to treat her pelvic organ prolapse and stress urinary incontinence. Thereafter, she suffered painful injuries, allegedly due to the transvaginal mesh implants. Allegedly, transvaginal mesh pose an unreasonable risk of vaginal erosion, meaning that the mesh moves out of its original place; when this happens, it can cut through other tissue and damage nearby organs such as the bladder or colon. The suit also alleges that the mesh can cause infection, chronic pain and/or abscess.
After receiving nearly 1,000 reports of complications associated with transvaginal mesh, the U.S. Food and Drug Administration (FDA) issued a Public Health Notification in October 2008 warning that the side effects appeared serious, but rare. Following that announcement, the agency received an additional 2,874 reports. Last July, the FDA updated their previous notification by warning that complications were in fact not rare, and that there is no evidence that transvaginal mesh has any benefits over non-mesh methods used to treat pelvic organ prolapse. According to the Safety Communication, the most common and serious side effects included erosion, pain, infection, bleeding, painful sex, organ perforation and urinary problems.
According to Bloomberg News, C.R. Bard lost the first personal injury lawsuit over transvaginal mesh in which $5 million has been awarded to a California woman, Christine Scott, who was allegedly injured by the Avaulta Plus device. Scott's husband is set to receive $500,000 for loss of consortium.
Parker Waichman LLP continues to offer free lawsuit consultations to victims of transvaginal mesh injuries. If you or a loved one experienced complications following POP and SUI surgery with mesh, please visit the firm's transvaginal mesh injury page at yourlawyer.com. Free case evaluations are also available by calling 1 800 LAW INFO (1-800-529-4636).
Contact: Parker Waichman LLP
Gary Falkowitz, Managing Attorney
(800) LAW-INFO
(800) 529-4636
http://www.yourlawyer.com