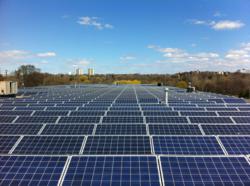 You have to applaud the City of LA and the LADWP to have such foresight
Los Angeles, CA (PRWEB) September 18, 2012
Solar Provider Group LLC has the highest number of shortlisted projects among all bidders to the Los Angeles Department of Water and Power's new feed-in tariff program. Shortlisted applicants to the program were contacted in August and are expected to receive connection studies later this month. As a result, Solar Provider will be increasing its operations significantly in the City of Los Angeles: the company anticipates investing approximately $5-million in Los Angeles during the program's current demonstration phase, and as much as $50-million once the full program is launched.
Christian Wentzel, Solar Provider's President, is particularly pleased with the regulatory process and the quick turnaround times to this point. He states that "the LADWP has been a pleasure to work with, and we are gearing up our permitting process to bring our projects and more green power online. You have to applaud the City of LA and the LADWP to have such foresight and create a program that will attract the development of clean, green, economical power." Solar Provider has already built and developed hundreds of similar solar FIT projects on rooftops across Europe and North America, and their enthusiasm for the LA program is reflected in their aggressive submission of initial applications: 20% of all applications received by LADWP as part of the current demonstration phase of the program. The portfolio includes a 1.2 MWp project, the largest single application submitted to LADWP during the bidding window. All of Solar Provider's applications were approved for further development.
The projects are expected to be constructed and connected by the end of 2013. To prepare for the development and construction of the initial pipeline, Solar Provider will shortly begin hiring and training business development staff, project managers and solar installers from Los Angeles County and the surrounding areas. "We are looking to create a win-win-win situation: generating clean energy at low prices, bringing in capital and technology, all while creating renewable energy jobs locally. Investing in economical solar power and in talented people is our operation's main goal," says Michael Peterman, Solar Provider's Vice President of Business Development.
Solar Provider will continue to expand its rooftop portfolio in Los Angeles throughout the year, in anticipation of the second phase of the Feed-In Tariff program. Building owners interested in solar power on their property and solar or real estate developers can contact Michael Peterman at mpeterman(at)solarprovidergroup(dot)com for more information.
About Solar Provider Group, LLC: Solar Provider is a fully integrated solar construction company, specializing in Feed-in-Tariff (FIT) programs globally. The company and its affiliates have completed projects in the US, Canada, Germany and the UK, among others. Solar Provider is headquartered in Los Angeles, California, with additional offices in Toronto (Canada), Halle (Germany), and Cambridge (UK). More information can be found at: http://www.solarprovidergroup.com or by calling 1-888-989-4677.