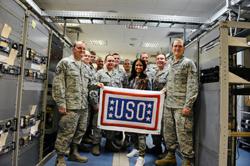 Arlington, VA (PRWEB) September 13, 2012
Twitter Pitch: @rocsidiaz wraps up week-long @the_USO tour to Italy just days after 9/11 visit to Aviano!
Television personality and actress Raquel Diaz, better known by her stage name 'Rocsi,' wraps up week-long USO tour to Italy. The tour ends just two days after the actress' heart warming 9/11 USO visit to Aviano Air Base. Check out USO photo link below!
DETAILS:

Diaz departed the U.S. on September 8 and spent the remaining five days visiting and uplifting troops and their families as part of her second USO tour. Among the military bases touched were U.S. Army Garrison Vicenza, Aviano Air Base and Naval Air Station Sigonella.
As part of the morale boosting tour, she visited several military schools, toured various units and work sites, and participated in a series of USO meet & greets. She also signed autographs, spoke at school assemblies and posed for photos.
Diaz visited Aviano Air Base on the eleventh anniversary of 9/11, where she spent time with First Responders at Aviano's Fire Station, met with members of Explosive Ordinance Disposal, dined with troops at the DFAC and spoke with middle schoolers about self esteem, anti bullying, back to school and the importance of education.
Inspiring millions of youth around the world for the past seven years during her tenure as the co-host of BET's flagship show "106 & Park," Diaz traveled to Germany in 2010 and participated in her first USO tour – where she again spoke with and inspired youngsters.
This fall, Rocsi will be leaving "106 & Park" to embark on the next chapter of her career in acting. Diaz can soon be seen in upcoming movies "Soul Ties" and "The Last Letter" starting Lynn Whitfield, among other feature films as she is actively reviewing scripts and honing her skills.
MULTIMEDIA:
USO Tour Photos: https://uso.box.com/s/kkayq670zjyc9nztxvzm
USO Fact Sheet: http://bit.ly/yaebvo
###
About the USO
The USO (United Service Organizations) lifts the spirits of America's troops and their families millions of times each year at hundreds of places worldwide. We provide a touch of home through centers at airports and military bases in the U.S. and abroad, top quality entertainment and innovative programs and services. We also provide critical support to those who need us most, including forward-deployed troops, military families, wounded warriors and their families and the families of the fallen.
The USO is a private, nonprofit organization, not a government agency. All of our programs and services are made possible by the American people, support of our corporate partners and the dedication of our volunteers and staff. In addition to individual donors and corporate sponsors, the USO is supported by President's Circle Partners: American Airlines, AT&T, Clear Channel, The Coca-Cola Company, jcpenney, Kangaroo Express, Kroger, Lowe's, Northrop Grumman Corporation, Procter & Gamble, and TriWest Healthcare Alliance and Worldwide Strategic Partners: BAE Systems, The Boeing Company, Lockheed Martin, Microsoft Corporation and TKS Telepost Kabel-Service Kaiserslautern GmbH & Co. KG. We are also supported through the United Way and Combined Federal Campaign (CFC-11381). To join us in this patriotic mission, and to learn more about the USO, please visit uso.org.