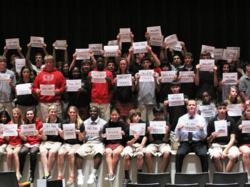 Tampa, Florida (PRWEB) September 13, 2012
Carrollwood Day School senior, Jake Gersten, recently took action by contacting, and convincing Sirdeaner Walker to visit the school and speak to his fellow classmates. Walker promotes a strong anti-bullying message, which began when her own young son took his life due to bullying. She will speak to the entire CDS high school on Friday, September 21, 2012.
All CDS students participate in "Advisory" Groups that meet weekly throughout the year with a goal aligned with the mission of IB to "develop caring young people who help to create a better and more peaceful world through intercultural understanding and respect". Jake led his Advisory group in creating a message of anti-bullying.
Jake said, "I was so inspired the first time I saw Sirdeaner Walker at my youth group event in Orlando that I felt it was imperative to share my experience with the rest of the school and my community."