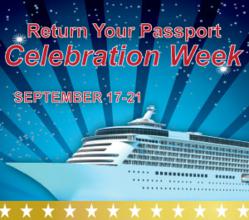 Alexandria, VA (PRWEB) September 24, 2012
To highlight its appreciation for members' loyalty and commitment, CommonWealth One has planned a "Return Your Passport Celebration" Member Appreciation Week, September 17-21. The event will highlight the conclusion of a special promotion, the Passport to Financial Freedom, which offers members a chance to win a 7-Night Cruise for 2 to the Bahamas!
To be entered to win the cruise, members must download a Passport (or get one at a branch), then get a stamp for every CommonWealth One product or service they use. Members may receive stamps for auto loans, savings accounts, checking accounts, online banking, mobile banking and more. Members who return their completed Passport by Sept. 30 will get one entry into the cruise drawing and additional entries when they open new accounts or sign up for new services. Members with the most Passport stamps will qualify for multiple entries into the drawing.
The week-long Member Appreciation celebration encourages members to return their Passports for a chance to win. There will be giveaways in each of the branches. Complimentary food and refreshments will be served, and members are encouraged to bring friends so they can learn about the benefits of credit union membership.
About CommonWealth One Federal Credit Union
Since 1944, CommonWealth One Federal Credit Union, headquartered in Alexandria, VA, has grown to become one of Washington, D.C. and Northern Virginia's top credit unions with more than $300 million in assets serving more than 36,000 members. CommonWealth One is a full-service, member-owned, not-for-profit financial cooperative committed to being the lifetime financial institution of its members. It provides its members with lower fees and loan rates, plus higher savings rates. Excess earnings are returned to members in the form of higher dividend rates, lower interest rates on loans and low or no fees.
CommonWealth One has branches in downtown Washington, D.C., Alexandria, VA, and Harrisonburg, VA (one branch is located on the James Madison University campus). Members can access their accounts through Online Banking, Mobile and Text Banking, plus a network of over 6,700+ shared branches and 43,000+ transaction-fee-free ATMs across the country. For information, or to open an account online, visit http://www.cofcu.org.