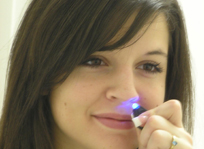 Colds, flu, and ear infections may become a thing of the past.
Fort Myers, Florida (PRWEB) September 26, 2012
With the cold and flu season approaching, there is new hope to staying healthy through the cold winter months. According to UV Technologies, a biotech company founded by inventor Kevin McGuire, the answer to staying healthy literally lies under your nose. McGuire and his team have discovered a key mechanism the human body uses to fight infections and disease. Based on this discovery, a new, patent pending product called UV-Aid® has been developed that effectively helps prevent colds, flu, sinus infections, and ear infections.
Human skin produces hydrogen peroxide when exposed to natural light through a process called photo-oxidation. Under the supervision of Dr. Cindy Dunn, author of the clinical reference book, "Protecting Study Volunteers", UV Technologies researchers discovered the resulting hydrogen peroxide is highly effective in killing bacteria found on the surface of skin, including inside nasal passages, and ear canals. The company identified the most efficient wavelengths that trigger this response and developed UV-Aid. UV-Aid enables the user to direct this light to areas of the body that are most susceptible to disease and infection.
Most cold and flu viruses are transmitted through the air and enter the body through the ear, nose, and throat. UV-Aid prevents germs from causing infection by producing hydrogen peroxide through photo-oxidation. In addition to killing the air-borne germs that attempt to enter the body, hydrogen peroxide also signals white blood cells to the treated area. Quoting McGuire, "This one-two punch is what helps keeps people healthy during the summer months when natural light is readily available but dwindles during the winter months. UV-Aid helps maintain this safe and effective germ killing mechanism throughout the year".
UV-Aid has been test marketed for over two years with a track record yielding 100% customer satisfaction, including zero returns, zero complaints, and gaining over 5,000 fans on facebook. The company's website, http://www.uvaid.com, contains numerous testimonials from users. As for safety and possible side effects, McGuire states, "A full day's treatment of UV-Aid is equivalent to stepping outside in the sun for less than a second, and the by products of hydrogen peroxide are oxygen and water. Nature has provided us with a simple and elegant answer to a long standing problem. Our research and resulting product, UV-Aid, puts the solution in everyone's hands."
About UV Technology, LLC:
UV Technologies, LLC's mission is to provide the best and most innovative products for customers' health and well-being. Our company takes great pride in its commitment to customer service and in the products we sell. We are proud members of the Better Business Bureau. Our website is designed to provide customers with a safe and secure environment to learn more about our products and conveniently make purchases. UV-Aid helps prevent colds, flu, sore throats, and sinus and ear infections through the process of photo-oxidation. iTanSmart is a free App. developed to help prevent over exposure to the sun. UV Technologies promises to bring you the safest and most innovative products to help live a healthier, more productive life. Please visit http://www.uvaid.com for more information.