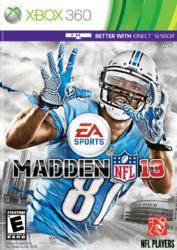 Detroit, MI (PRWEB) September 14, 2012
The Sports Fan Playground announces that the online store has drastically cut the price of the game, Madden NFL 13. The game is one of the top games of the early sports season and is drawing strong reviews from gamers around the United States.
The game is available on Xbox 360, Playstation 3, Playstation Vita, Nintendo Wii and the soon-to-be-released Nintendo Wii U. SportsFanPlayground.com also currently has the Xbox Live 12-Month Gold Membership card on sale for $42.85, while supplies last.
The store also will be distributing the new Kindle Fire HD tablet, which is now on sale in the 7-inch, 16GB wi-fi version. The new Kindle Fire HD offers a 1280x800 HD display, Dolby audio stereo speakers, a dual-band antenna with dual-band wi-fi for 40% faster streaming and downloads, and access to over 22 million movies, TV shows, songs, magazines, books, audiobooks, and popular apps and games. The system will be on sale for $199.00. Versions of the Kindle Fire HD with 32GB and 64GB will be available on November 20.
SportsFanPlayground.com also has used versions of the previous version of the Kindle available for $129.99 while supplies last.
For more information, visit SportsFanPlayground.com.
About the Sports Fan Playground -
SportsFanPlayground.com is a leading online e-commerce provider of sporting goods and fan apparel from the NFL, NHL, MLB, NBA, NCAA, UFC, WWE and other top leagues from around the world. The store also has a variety of electronics which range from tablets, PCs and cameras to video games, DVDs, Blu-Ray Discs, appliances, lawn and garden products and more.
The store also carries the top brands in electronics and apparel including, Nike, Adidas, Apple, Sony, Samsung, Microsoft, EA Sports, and many more. The company recently began its initial expansion into clothing and jewelry and will continue to expand over the next several months.