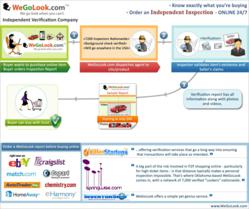 United Kingdom (PRWEB) September 14, 2012
WeGoLook.com has expanded its services to the United Kingdom. Large events such as the closing of the Olympic Games are a magnet for fraud and scams. Now that WeGoLook is offering "London Looks", there is a way for consumers and tourists to protect themselves from scammers while providing custom tasking on their behalf.
WeGoLook is a unique online service that sends a real person to perform a task or "Look" at something. WeGoLook features a vast network of "Lookers" (now in the UK) who are ready to be dispatched on a client's behalf to an item, property or person anywhere in the UK to make a few basic observations. Lookers will verify the existence, condition and seller's claims of any item, property or asset so consumers can avoid falling victim to fraud and misrepresentation. Lookers may take digital photos, video, observe working demonstrations, answer specific questions, offer transport and more. Lookers will also perform custom tasks like verifying a rental property (don't send a deposit prior to verification), meeting to purchase tickets on behalf of a customer, delivering an item to a shipper and more. Offering field services with dynamic data capture and custom tasking for large corporate accounts is also a valuable service provided by WeGoLook.
Armed with a visual confirmation and completed personalized report, WeGoLook's customers are better informed, avoid costly surprises and benefit from unbiased confirmation without having to travel to the location of the item, property or persons themselves. Virtually anything can be confirmed: a vehicle advertised on eBay, rental property, tenant damage to personal property, online dates, antiques, pets and more can now be verified through WeGoLook.
In addition to their verification services, WeGoLook also offers task completion. If there is an important business seminar next week that you can't attend, a WeGoLook agent can be dispatched to attend the seminar and take detailed notes for you. If you need an item picked up and delivered to a shipper, a Looker can pick up the item from the Seller and deliver to a shipper or assist by arranging transport, all while taking photos of the item as it is being shipped to verify its condition. With services that are completely customizable to each individual's needs, WeGoLook will prove to be just as valuable in the UK as it already is in the US.