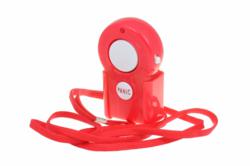 "We designed a product to help save the lives of our customers in a variety of emergency situations. For less than $30, the Help Cord should be in every business, every kid's room, every nursing home, and every dark parking lot in the United States"
MINNEAPOLIS, MN (PRWEB) September 17, 2012
Vigilant Personal Protection Systems has introduced a brand new concept in personal security – the Help Cord PPS-HC1 Personal Alarm. The Help Cord is a multi purpose alarm featuring a 140dB siren activated by a panic button or rip cord. It's available at HelpCord.com and at Amazon.com for less than $30.
"There's nothing on the market that can do what the Help Cord does," said David Happe, President of Vigilant Personal Protection Systems. "We designed a product to help save the lives of our customers in a variety of emergency situations. For less than $30, the Help Cord should be in every business, every kid's room, every nursing home, and every dark parking lot in the United States."
The Help Cord is a free standing, wall mounted alarm designed for 2 minute installation. When you pull the rip cord, or press the PANIC button, the Help Cord™ screams with its powerful 140dB siren while simultaneously activating the red flashing LED light. Anyone within ear shot of the Help Cord can't mistake the shrill alarm as an SOS signal. The Help Cord can help stop rapes, summon emergency assistance for the elderly, provide an inexpensive panic button for businesses, and scare off home invasion burglars.
For additional information on the Help Cord including product demonstration and installation videos, please visit http://www.helpcord.com. The patent pending Help Cord is marketed exclusively in the United States by Vigilant Personal Protection Systems, a division of Blaze Your Own Path, Inc. out of Minneapolis, MN.