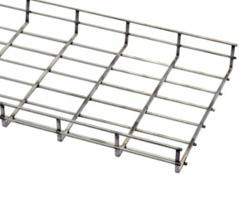 Westlake Village, Calif (PRWEB) September 13, 2012
Chatsworth Products, Inc. (CPI) will present a new line of eConnect™ power distribution units (PDUs) and its innovative OnTrac® Shaped Wire Mesh Tray during the National Electrical Contractors Association (NECA) Convention and Tradeshow. CPI, a global manufacturer providing products and solutions that optimize, store and secure technology equipment, will be exhibiting these products and more in Booth # 2349.
CPI eConnect PDUs are a new generation of intelligent power distribution products that are designed to withstand the heat loads of any hot aisle environment and available in more than 100 standard configurations. eConnect PDUs have capabilities that range from establishing basic connections to equipment, to remote access that features monitoring on each individual outlet. Available in three models, eConnect PDUs include the Basic, Monitored and Monitored Pro.
OnTrac Shaped Wire Mesh Tray is an ideal solution for creating point-to-point cable pathways that support high performance and high density cabling. OnTrac Shaped Tray offers contractors an alternative to traditional wire basket trays that use round cross wires. Using flattened cross wires instead, OnTrac Shaped Tray offers 400% more contact surface area than many standard wire mesh tray products and a 63% reduction in cable strain, while still implementing the same installation techniques, supports and accessories as CPI's Standard Wire Mesh Tray.
Trusted for more than 20 years as a dedicated problem solver and source for the latest IT infrastructure solutions, CPI understands the complex needs associated with electrical installations inside highly critical data center environments. Visit CPI's booth Sept. 29 to Oct. 2 during the NECA Convention in Mandalay Bay, Las Vegas to see many of these solutions first hand, including: F-Series TeraFrame® Cabinet System, two-post Rack System, QuadraRack™ 4-Post Frame and Evolution® Cable Management.
About Chatsworth Products, Inc.
Chatsworth Products, Inc. (CPI) is a global manufacturer providing voice, data and security products and service solutions that optimize, store and secure technology equipment. CPI Products offer innovation, configurability, quality and value with a breadth of integrated system components, covering virtually all physical layer needs. Unequalled customer service and technical support, as well as a global network of industry-leading distributors, assures customers that CPI is dedicated to delivering products and services designed to meet their needs. Headquartered in the US, CPI operates global offices within the US, Mexico, Canada, China, the Middle East and the United Kingdom. CPI's manufacturing facilities are located in the US, Asia and Europe.
CPI is listed with the General Services Administration (GSA) under Federal Supply Schedule IT 70. Products are also available through GSA Advantage and through Government Wide Acquisition Contracts (GWACs), including GSA Connections and NITAAC-ECS III. (http://www.chatsworth.com/gov)
Media Contact
Craig Ramey
Public Relations Specialist
Email: cramey(at)chatsworth(dot)com
Phone: (+1) 252-635-4264
More Information
Visit: http://www.chatsworth.com
Email: info(at)chatsworth(dot)com
Toll-Free: 800-834-4969
###
All products quoted are subject to availability based on manufacturing capacity and shipping dates should be considered estimates only. While every effort has been made to ensure the accuracy of all information, CPI does not accept liability for any errors or omissions and reserves the right to change information and descriptions of listed services and products.
©2012 Chatsworth Products, Inc. All rights reserved. CPI, CPI Passive Cooling, MegaFrame, Saf-T-Grip, Seismic Frame, SlimFrame, TeraFrame, GlobalFrame, Cube-iT Plus, Evolution, OnTrac, QuadraRack and Velocity are federally registered trademarks of Chatsworth Products, Inc. eConnect and Simply Efficient are trademarks of Chatsworth Products, Inc. All other trademarks belong to their respective companies.