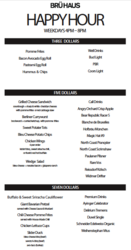 Santa Monica, CA (PRWEB) September 13, 2012
Since opening their doors in July 2011, BRÜ HAUS has proven itself to be the go-to place for brüs and brats in West Los Angeles. Now, shortly after celebrating their one-year anniversary, BRÜ HAUS is announcing a new, re-vamped happy hour menu. With great options at three, five and seven dollar price points, wallets will be happy too.
BRÜ HAUS serves up a mouth-watering array of dishes, surprising the senses by adding a twist to traditional German fare – from gourmet brats & burgers to comfort foods including grilled cheese and giant Bavarian pretzels. The brand new happy hour menu includes elevated bar-food items such as the $3 Bacon Avocado Egg Roll, their specialty Sweet Potater Tots for only $5, and delicious $7 Slider Duos available in Bleu Cheese BBQ, Savory K-BBQ, and Avo-Taco with Turkey. For a more adventurous palate, there are unique dishes such as the $3 Pastrami Egg Rolls and $7 Buffalo & Sweet Sriracha Cauliflower.
Beer-lovers will find a variety of specialty beers on tap, now available at happy hour prices - just in time for Oktoberfest. Featured brews include selections from Weihenstephan, Paulaner, Ayinger and Hofbrau breweries every week, as well as individual Oktoberfest specials from Spaten and Hacker Pschorr.
A hidden gem on Wilshire, this spacious, high-ceilinged gastropub has a tasteful but laid-back atmosphere. Incorporating elements of a traditional neighborhood bar in a sleek, inviting way, the design of the restaurant is well lit and open with spacious leather booths and high-top tables for an enjoyable dining experience. It's the best spot on the West Side to mix and mingle with tasty drinks and treats, now for less.
BRÜ HAUS happy hour runs weekdays from 4pm-8pm.
BRÜ HAUS is located at 11831 Wilshire Blvd., Los Angeles, CA 90025. For more information, visit http://www.bruhauspub.com or call 310.473.BEER (2337)
Media Contact: Kelley Coughlan, Melrose PR, Kelley(at)melrosepr(dot)com, (310) 450-7960, http://www.melrosepr.com