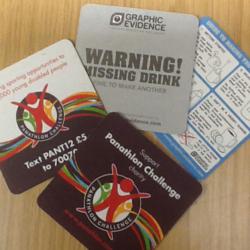 London (PRWEB UK) 14 September 2012
Graphic Evidence continually strives to generate new, interesting and eye catching marketing resources. The creation of the custom branded, double sided drink mats has provided Graphic Evidence and their clients with a cost effective and fun way of marketing.
By targeting ambient media, the branded drink mats reach the target market through social events and locations. For example, Panathalon Challenge – a charity that provides young disabled children with sporting events – have commissioned Graphic Evidence to create their own branded drinks mats to be used at corporate events, effectively pinpointing potential donors and sponsors during social events in a way that is eye-catching and relatively inexpensive to produce.
With a long history in successful branding and marketing, this innovative marketing avenue provides another channel in which Graphic Evidence and their clients can target chosen markets. With the option of creating drinks mats that mirror logo designs, Graphic Evidence can produce drip mats that stand out from the table, bar or desk and generate a call to action. The Graphic Evidence graphic designers have created their own personalised drinks mat with a fun guide to making the perfect cup of tea, effectively engaging users.
Graphic Evidence is a full-service creative marketing agency and web design company.