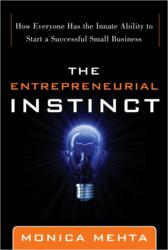 New York, NY (PRWEB) September 13, 2012
We've all heard stories of the dropout that makes billions– a triumph relying more on luck than skill and never to be repeated. In real life, successful entrepreneurs take classes, write business plans and map out every contingency. But if the stories are such a fluke, why do we hear them over and over again?
The Entrepreneurial Instinct (McGraw-Hill | Sept 14 2012) looks past the rags to riches stories to explore the role of mind, behavior, and brain chemistry in our ability to be successful entrepreneurs. Interviews with entrepreneurs reveal the traits and habits that allow them to thrive. Groundbreaking insight from neuroscience and psychology experts uncovers the scientific explanations behind the self-made maverick's seemingly innate knack.
More importantly, the book reveals how you can use these discoveries to replicate their success by:

Taking rewarding risks
Overcoming fears and failure
Thriving in the face of ambiguity
Using your innate talents to find financial independence and make millions
The Entrepreneurial Instinct features the incredible self-made stories of the founders of CLIF Bar, Carol's Daughter, Marquis Jet, Skip Hop, KIPP Charter Schools, J Brand, Tahari, Apple, Paul Mitchell Systems, and Dogfish Head Beer - seemingly average people who possessed a keen understanding of how his or her mind worked—and used that knowledge to their advantage. The book has earned praise from business thought leaders including CEO Mastercard, former CEO CompUSA, former CEO Borders Books, The Wharton School, INC Magazine, MSNBC Your Business, BloombergTV among other.
In a time when millions are unemployed, underemployed or facing a lack of opportunities, The Entrepreneurial Instinct offers much needed techniques for seizing control of your own destiny and making more with less.