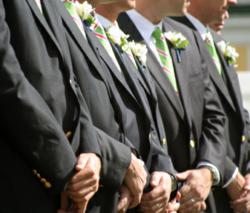 We want to see pictures of real weddings as this will help us forecast trends and design coordinating ties.
San Francisco, CA (PRWEB) September 25, 2012
The specialty retailer for groom & groomsmen ties,Bows-N-Ties, has now launched their wedding picture contest. Over the next 6 months couples will be able to share their beloved wedding pictures and will have a chance to win a total of $1,500 in prizes. Each month the couple with the most stylish picture will win a $250 gift certificate to Bows-N-Ties.com.
"Over the past year alone we have helped over 10,000 groomsmen dress with matching wedding ties. We now want to see some of these dapper dressed wedding parties in action", says the site's founder Hendrik Pohl. Over the past several wedding seasons Bows-N-Ties has become the #1 place for couples that are looking for ties that match very specific bridesmaids dress colors. No matter how specific the color request may be, Bows-N-Ties offers close to 4,000 different neckties and bow ties that are sorted to match over 300 popular wedding hues.
"We wanted to make it easy for couples to find their matching wedding ties", explains Pohl. Instead of ordering a wide range of swatches and/or dealing with the hassle of returning non-matching ties, we have done all the work for them." The wedding consultants at Bows-N-Ties paired all their 4,000+ ties to very specific bridal colors, and instead of guessing on possible matches, each tie was paired to the actual fabric swatch. "It was a tedious and very time consuming process", recalls Pohl. "It took us almost 3-months just to match our existing stock of ties to these hundreds of wedding colors. In addition we contacted our tie makers and designers to create new colors to perfectly match very specific bridal hues." From "Apple-Red" to "Yellow-Corn" couples can find at least a dozen different ties matching each of the 200+ wedding colors. In addition to groomsmen ties, the retailer also offers matching pocket squares, neckties for kids and ring bearers, as well as longer length ties that are especially made for the taller groomsmen.
"We are not just looking for wedding pictures featuring our ties", says Pohl. "In fact, we have a general interest in wedding themes, wedding attire, venues, and wedding colors. We want to see pictures of real weddings as this will help us forecast trends and design new wedding ties."
For more information as well as to participate in the contest, please visit: http://www.bows-n-ties.com/contest-register.php