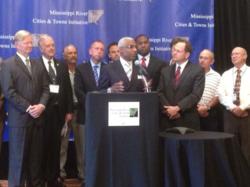 The Mississippi River needs to be a national priority...we [Mayors] have vowed to forge ahead with one voice.
St. Louis, MO (PRWEB) September 15, 2012
Spurred by severe drought conditions and Hurricane Isaac, 41 Mayors representing towns and cities throughout the Mississippi River basin participated in a two-day conference to craft a strategy that brings national attention back to the Mississippi River—America's most critical natural asset—and spearhead a new level of regional cooperation to make it more sustainable.
"The drought and hurricane serve as urgent reminders that the Mississippi River needs to be a national priority. As Mayors, we have vowed to forge ahead with one voice to protect the local and national interests presented by this vast and important river," said St. Louis Mayor Francis Slay, who hosted the meeting.
The drought—the worst in 50 years—severely impacted the towns, cities and people who live and make a living along the Mississippi River, the ecological linchpin to the 37-state Mississippi River Basin. This summer, eight out of the 10 states touching the River received USDA drought emergency declarations. And now, Hurricane Isaac further threatened and damaged many River communities.
Held at the Hyatt Regency overlooking the River, the meeting was the first for the Mississippi River Cities & Towns Initiative (MRCTI) and engaged officials from EPA, USDA, FEMA, and U.S. Army Corps of Engineers as well as state officials and non-government organization stakeholders on critical federal activities affecting Mississippi River cities and towns.
Modeled after the successful Great Lakes & St. Lawrence Cities Initiative, MRCTI is an effort coordinated by the Northeast-Midwest Institute (NEMWI) with funding from the Walton Family Foundation to create a new and influential voice for the Mississippi River that dramatically increases demand for effective river protection, restoration and management in Washington, DC.
During the meeting, the Mayors set the MRCTI framework for articulating and driving multi-stakeholder solutions to recurring federal and state policy problems that impede environmental and economic health of river communities. They agreed that next steps would include:

supporting a Farm Bill, which is urgently needed to provide help to drought devastated communities and protect the national economy from being stressed by higher food and energy prices
involving the agriculture, recreation, and navigation industries in this effort
heading to Capitol Hill in the first quarter of 2013 to demand critical policy changes such as:
o transforming the National Flood Insurance Program to incentivize sustainable development of flood plain areas
o reforming the Harbor Maintenance Trust Fund and Inland Waterways Trust Fund so they stay effective tools
o focusing on the river's environmental health to ensure that navigation remains viable
Longer term, MRCTI will also build its members' capacity to undertake effective local initiatives to attract green jobs, move to sustainable economies and achieve local environmental protection goals. Ultimately, the work will help protect and restore the Mississippi River as a natural system that can sustainably support human culture and economies as well as wildlife.
The River is responsible for creating $105 billion worth of U.S. GDP; providing drinking water for more than 18 million; transporting 62 percent of our nation's agricultural output; delivering nearly 400 tons of coal and petroleum products; and directly supporting one million jobs and millions more indirectly.
Mayors participating in the MRCTI press briefing included: Francis Slay, St. Louis, Paul Winfield, Vicksburg, MS, Bill Gluba, Davenport, IA, Roy Buol, Dubuque, IA, Jo Anne Smiley, Clarksville, MO, Tyrone Coleman, Cairo, IL, Chan Case, Wickliffe, KY, David Kleis, St. Cloud, MN, A.C. Wharton, Memphis, TN, Larry Stebbins, Savanna, IL, Richard Greminger, Ste. Genevieve, MO, Mark Vulich, Clinton, IA, DeWayne Hopkins, Muscatine, IA, Joe Eggemeyer, Chester, IL, Hyram Copeland, Vidalia, LA, Dickie Kennemore, Osceola, AR, Tom Hoechst, Alton, IL, Tom Thompson, Grafton, IL, and Alvin Parks, East St. Louis, IL.
For questions concerning the MRCTI, contact NEMWI's Colin Wellenkamp at 314-324-8781.