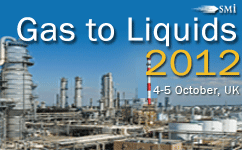 London (PRWEB UK) 14 September 2012
SMi Group are proud to announce that OLTIN YO'L GTL have signed up as a sponsor of this year's GTL conference & exhibition.
The US Department of Energy will now also be speaking on Day 2. For further details check the website.
Key decision makers from 30+ countries around the globe will discuss the future of GTL through a series of project updates, case studies, technology sessions, and interactive panel debates which will be addressed over the 3 days meeting. For more information or to book your place please contact Andrew Gibbons on +44 (0) 207 827 6156.
NEW FOR 2012:
SMi's EVENT COMMUNITIES: To further enhance the SMi experience; we have launched our very own SMi Event Communities. These will be exclusive, private and secure communities in which our clients will learn, share, engage and network.
EVENING RECEPTION & DINNER: SMi Group invites you to join them for a post conference dinner reception following the end of the first day. Dinner will be held at Gilgamesh restaurant and bar where you will have the extended opportunity to network with industry professionals.
Register online at: http://www.smi-online.co.uk/2012gtl39.asp
About SMi Group: The SMi Group is a highly Professional, Independent and Global event producing company that specialises in Business to Business Conferences, Workshops and Masterclasses and online Communities. We create and deliver events in Defence, Security, Energy, Utilities, Finance and Pharmaceutical industries. Our aim is to provide you with the Highest Quality Events in Defence, Security, Energy, Utilities, Finance and Pharmaceutical sectors, which are timely, relevant and important to you and your company!
We are Experts in knowing Experts and have been bringing you this Expertise since 1993!