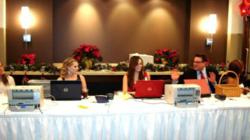 Minneapolis, MN (PRWEB) September 21, 2012
Event Payment Services will make available fundraiser event administration services to nonprofit and charitable organizations to assist in the logistical tasks utilizing the WeRaiseIt web portal software at the night of the event. The fundraiser and event services are provided based on the event coordinators availability. Event coordinators are approximately on-site for 7-10 hours, arriving 1-2 hours (included in the 7-10 hours) prior to the event start time and leaving after the guests have completed the cashier and checkout process.
Coordinators will provide the following services to ensure a successful fundraiser event:
•Review the WeRaiseIt web portal setup
•Verify the terminal initialization process within the WeRaiseIt web portal
•Review with staff and volunteers on the successful bid entry and guest cashier/chck-out process
•Oversee the data entry and cashier/checkout process – troubleshoot and answer any questions by staff and volunteers
The fundraiser event administration services will be made available upon the completion of the WeRaiseIt web portal. For more information on this service please email info(at)weraiseit(dot)com.
About Event Payment Services: Event Payment Services was created by BancCard Financial Services, Inc. (BFSI) to specialize in the fundraising needs of nonprofit organizations. ePSPay ™ and WeRaiseIt are brands of Event Payment Services. Since 1997, BFSI has provided credit and debit card processing, check verification, check conversion/imaging, gift and loyalty card services, and merchant processing terminals. BFSI provides these services through its terminals and web-based software. EPS was created in 2006 to focus on the fundraising needs of nonprofit organizations. BFSI, through ePSPay ™ and WeRaiseIt brands, is an innovator in fundraising tools for the nonprofit world. BFSI, EPS and WeRaiseIt can be found on the web at http://www.eventpaymentservices.com, http://www.weraiseit.com
###