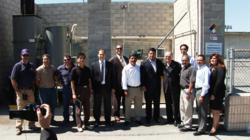 Gannett Fleming's remediation systems are expected to extract more than 3,600 gallons of gasoline from groundwater at the site during the next six months.
Irvine, California (PRWEB) September 14, 2012
To help mitigate significant environmental contamination in a Lynwood, Calif., neighborhood, Gannett Fleming Inc., a global infrastructure firm, designed and installed two remediation systems to clean up free-phase gasoline found in the area's groundwater. The systems are the first steps in a comprehensive remediation program designed to prepare the site for redevelopment into a commercial and residential mixed-use project.
The contamination was caused by several fueling facilities on the site and poses a significant health risk to the surrounding community. "Our remediation systems are expected to extract more than 3,600 gallons of gasoline from groundwater at the site during the next six months," said Carl Lenker, P.E., senior project engineer with Gannett Fleming.
At the official clean-up commencement event, Lynwood city manager, Roger Haley, said, "They say the journey of a thousand miles begins with one step. Today is a huge step for us." Lynwood director of community development, Sarah Magana Withers, noted, "Upon completion of the remediation here, Gannett Fleming, as our environmental engineers, will be able to give us the groundwork to have a viable piece of land that we can actually redevelop and produce certain needed services within our city as well as jobs."
With a $1.5 million allocation, the Lynwood site received the largest allocation of money awarded under the state of California's Emergency Abandoned and Recalcitrant (EAR) Sites Fund. The contamination at this site has been a thorn in the City's efforts to redevelop the Site for over 15 years. The funding will finally allow the City to move the project forward.
Securing this funding on behalf of Lynwood and implementing a successful remedial program are examples of how Gannett Fleming provides both innovative funding strategies and sound engineering to kick-start a Brownfield project, which ultimately helps transform communities into healthy, thriving neighborhoods and developments.
Gannett Fleming is a global infrastructure firm that provides planning, design, technology, and construction management services for a diverse range of markets and disciplines. With 2,000 employees, we have helped to shape infrastructure and improve communities through transportation, environmental, water, energy, and facility-related projects in more than 65 countries. The firm embraces sustainability and innovation for all activities, finding the best solutions and the most efficient processes while being responsible stewards of the environment. Founded in 1915, Gannett Fleming had $292.4 million in revenues in 2011 and has more than 60 offices around the world. We are proud to be ISO 9001:2008 Certified.