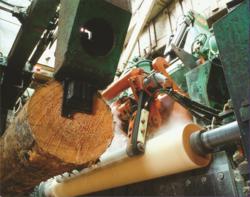 Cary, NC (PRWEB) September 13, 2012
MTS Systems Corp., Sensors Division, will be exhibiting a wide range of Temposonics® sensors at the Timber Processing and Energy Expo, Oct. 17-19, in Portland Oregon. MTS Sensors produces magnetostrictive sensors for a wide range of applications in these industries, including curve sawing, wood harvesting/sawmills and cutting stackers.
"Improvements in the timber industry have to start at the machine level," Matt Hankinson, technical marketing manager with MTS Sensors, explained. "Magnetostrictive sensors enable precision measurements on high speed machines with less down time and maintenance compared to other sensor technologies."
The sensors are manufactured to meet the conditions faced in the timber industry, including shock and vibration resistance and absolute positioning (requiring no recalibration). Additionally, Temposonics sensors require little to no cabling, allowing for easier access and fewer safety hazards.
MTS Sensors will be showcasing multiple product lines at TPEE 2012, including:

R-Series Temposonics® Sensors, designed for applications where a high level of accuracy is required.
E-Series Temposonics® Sensors, designed for low-cost applications where basic feedback is needed.
G-Series Temposonics® Sensors, which bring microprocessor intelligence programming and diagnostics into applications typically reserved for analog systems.
Recent innovations on display will include the new Ethernet/IP™ output, which is used with the R-Series sensors to lower overall system costs and improve functionality, and the Temposonics RD4 sensor, which allows for detached electronics.
Temposonics® sensors are used in a wide range of heavy industrial applications, including metal working, plastic fabrication, woodworking and many more. Additionally, MTS Sensors is always exploring and testing new areas where magnetostriction can offer unique performance and productivity advantages.
Visitors are invited to visit the MTS Sensor booth number 739 any day of the event to learn more.
For more information, please contact: MTS Systems Corp, Sensors Division, 3001 Sheldon Drive, Cary, NC 27513. Phone: (919) 677-0100. E-mail: sensorsinfo@mts.com or visit their web site at http://www.mtssensors.com.
MTS Sensors, a division of MTS Systems Corp., is the global leader in the development and production of magnetostrictive linear-position and liquid-level sensors. The Sensors Division is continually developing new ways to apply magnetostrictive sensing technology to solve critical applications in a variety of markets around the world. With facilities in the U.S., Germany, Japan and China, MTS Sensors Division is an ISO 9001-2008 certified supplier committed to providing worldwide innovative sensing solutions.