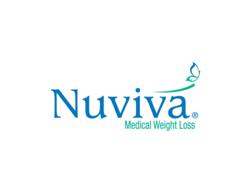 "Our goal is not only to help clients reach their weight-loss goal, but teach them the skills to maintain their results for life," South Tampa Nuviva Medical Director David Laflamme, M.D..
Tampa, FL (PRWEB) September 15, 2012
Nuviva Medical Weight Loss has opened a new clinic in Tampa. The franchise is located in South Tampa and represents the 13th clinics in Florida for the medically supervised weight-loss program.
The South Tampa clinic, located at 1601 W. Platt St., is under the medical direction of Mark Laflamme, M.D. Dr. Laflamme is board certified in Internal Medicine, is board eligible in clinical informatics, is certified in aesthetic medicine, and is licensed to practice medicine in Florida, Indiana and California. A graduate of St. George's University School of Medicine in Grenada, West Indies, Dr. Laflamme completed his residency in internal medicine at Stony Brook University in New York.
Nuviva Medical Weight Loss operates clinics in Fort Myers and two in Naples, with franchise locations in Sarasota, Orlando, Boca Raton, Jupiter, Boynton Beach and Port Charlotte.
Nuviva Medical Weight Loss founders Alex Joseph, president and CEO, and Jeff Delaney, vice president, created Nuviva in conjunction with Medical Director Brian Arcement, M.D., FACC, FASCAI, to include a multi-phase program with specifically formulated nutraceuticals and extensive individual coaching and education to help clients achieve their weight-loss goals in a sustainable format.
The program integrates diet, exercise, supplements, medications, education and support in a unique, customized program that begins with a comprehensive physician evaluation and includes regular meetings with a nutrition coach.
Nuviva Medical Weight Loss recently launched a 10-week, medically supervised weight-loss challenge. Participants can sign up through Sept. 22 at local Nuviva clinic locations. The contest offers winning participants up to $20,000 in cash and prizes.
To make an appointment, call the South Tampa clinic at 813-440-2211.
In addition, Nuviva Medical Weight Loss has recently opened a new clinic in North Tampa, located at 3264 Cove Bend Dr. To make an appointment in North Tampa, call 813-443-0553.
For more information or a free consultation regarding Nuviva's medically supervised weight-loss program, call toll-free 855-4Nuviva (855-468-8482) or visit http://www.NuvivaWeightLoss.com/southtampa/.