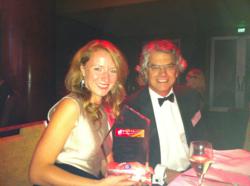 "MICROMINE's success has been a real culmination of many years' hard work by such a large group of people." -- CEO Kevin Fitzpatrick
Perth, Australia (PRWEB) September 15, 2012
Leading software and solutions provider, MICROMINE, has been named the successful recipient of the Exporter award at the 2012 WA Information Technology & Telecommunications Awards (WAiTTA). MICROMINE has received more than a dozen such awards over the past decade for business excellence.
The WAiTTA awards originated in 1991 and were established to acknowledge outstanding performance by members of the IT community in Western Australia.
On receiving the award at a gala dinner earlier this year, MICROMINE CEO, Mr. Kevin Fitzpatrick expressed his thanks to all of those responsible for MICROMINE's success.
He explains, "MICROMINE's success has been a real culmination of many years' hard work by such a large group of people. When the company was formed over 25 years ago, we had no idea our mining and exploration solutions would be so widely received."
Mr. Fitzpatrick continues, "Our solutions are now available in 20 of the world's major mineral producing capitals, with these offices servicing over 12,000 clients. MICROMINE's aim is to continue developing world-class mining and exploration solutions and ensure our technology remains competitive in this market."
MICROMINE has over 250 staff based in 20 countries around the world. It is the leading provider of intuitive software solutions to the mining and exploration industry. MICROMINE's solutions span every stage of the mining process.
About MICROMINE
With over 12,000 clients in more than 90 countries, MICROMINE is a leading provider of intuitive software solutions for the entire mining process. MICROMINE understands the software and consultancy needs of exploration and mining operations around the world. Located in 20 of the world's major mineral producing capitals, our team is close to your operation. This means MICROMINE can provide local support and services in your language and time zone. MICROMINE's intuitive solutions are delivered by a team of specialists who understand the software and how it can be integrated into an operation for maximum results.