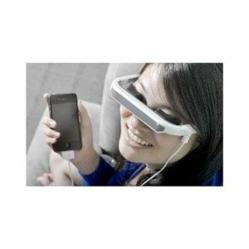 it's amazing to see the clever and ingenious Apple accessories that have followed in the market
Boston, MA (PRWEB) September 17, 2012
Popular gadget and gift website Shot Hot Coffee Out of Nose today announced their list of the top Apple accessory gifts for the 2012 Christmas season. Coming in at the very top of the list are the iPhone Video Glasses with 60 inch virtual screen. These glasses connect with iPhone and iPad devices allowing users to watch movies, tv shows and videos within the privacy of their own virtual screen. This is the perfect gift for the frequent flyer who likes to download and watch movies during a long flight. Another accessory in the top ten is the rugged, waterproof digital boombox from Grace Digital. The rugged construction of this product allows it to play music anywhere under any conditions by simply docking an iPhone into the waterproof chamber of the boombox stereo. A great gift for the painter, surfer or construction worker or anyone who likes to listen to music under less-than-ideal conditions.
'With so many people now using the iPhone it's amazing to see the clever and ingenious Apple accessories that have followed in the market' said Shot Hot Coffee Out of Nose editor Chet Dickfield. "It seems that Apple has sparked the imagination of product development engineers around the world and this Christmas we will get a taste of the fruits of their labor."
Some additional accessories to make the list ranged from the novelty of an iPhone case shaped like a large nose and held by your two fingers in the nostrils, to a the very practical texting gloves made with real silver in the fingertips for optimal texting this wintertime.
Whatever the need is, there is a company that seems to have created a perfect solution for all of the Apple fanatics around the world.
Top 10 iPhone/iPad Accessories for Christmas 2012:
1. iPhone/iPad Video Glasses with 60" Vertical Screen
2. Agloves - stylish winter gloves with real silver in the fingertips for optimal texting
3. Grace Digital rugged waterproof iPhone boombox
4. iPhone rotary telephone handset for comfortable conversations
5. Mili Pro iPhone/iPad video projector allows you to create a home theater
6. Nosepickers iPhone case - novelty case in the shape of a nose
7. Pinball Magic turns your iPhone into a pinball machine with flippers and plunger
8. iPad under cabinet mount/dock creates a television under your kitchen cabinets
9. Hands free iPad stand - allows you to watch your iPad in bed without holding it
10. iCade Console - turn your iPhone into a retro 80s arcade machine with joystick and buttons
"With so many options this Christmas there is sure to be an accessory that suits every Apple owner's needs." added Dickfield. For more great Apple accessories and hundreds of other unique gift ideas visit Shot Hot Coffee Out of Nose at shcoon.com.