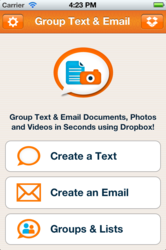 Group Text & Email can speed document deliveries, improve reliability while increasing response rates.
Austin, TX (PRWEB) September 14, 2012
Callvine is launching today its new "Group Text & Email" app to allow iPhone users to quickly send large documents, brochures, and presentations in addition to photos and videos – by text and email. Using Dropbox, the new app easily sends short links to very large files to groups of any size. With inboxes frequently overflowing and spam filters killing many mass emails, sending important communications by Group Text & Email can speed message delivery, improve response rates and increase deliverability.
The Austin-based mobile app developer has integrated the use of Dropbox links to deliver an easy way for instantly distributing any files stored on Dropbox in addition to recent photos and videos on the iPhone's camera roll. A voice message may be quickly appended to describe the accompanying attachments or to talk the recipient through a presentation or document.
"With Dropbox cloud storage used by millions of iPhone users, we felt it was important to provide an easy app for rapid distribution of Dropbox files by both text and email," said Rudy Prince, Callvine CEO. "With our new "Group Text & Email" app, users can easily select Dropbox files, append together with photos or videos, even add a voice description, and instantly deliver to their team or group."
The app includes tools to quickly create and edit groups and large distribution lists. Messages and files are transmitted directly from the user's iPhone while using connections to an existing Dropbox account or users may create a new Dropbox for free. When a message is received, the recipient is given the option of immediately viewing the file or filing in their own Dropbox for viewing later from anywhere.
Key App Features:

Sends multiple files at once - documents, PDF's, presentations, spreadsheets - in a single text and email using short encrypted links
Sends photos & videos directly from the iPhone's camera roll with the quality you choose - not truncated MMS quality
Allows mass texting to large groups of even more than 100
Transmitted photos and videos are always automatically archived to Dropbox
The app is currently available in iTunes worldwide and requires iPhones using iOS 5.0 or later. For a limited time, the app is free with the price changing to USD$0.99 beginning October 15, 2012.