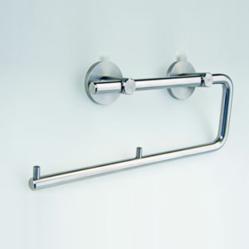 Products You Can Count On From People Who Care
North Yorkshire, UK (PRWEB UK) 14 September 2012
The Toilet Roll Holders are very important for every toilet to keep the paper rolls in an organized manner. The CNM online has released a range of these roll holders which have a lot to offer. They are offering both simple and stylish holders for different toilets. The stainless steel made roll holders are long lasting, and they are water resistant too. The chrome finish makes them look more modern. There are roll holders which hold more than one toilet roll at ones, for longer storage period. The mechanism of these roll holders from CNM online offers anti paper waste facility and locking. The role holders are wall mounted.
The CNM Online is offering the roll holders with new and advanced designs and systems which are more suitable for every restroom. Their executive media manager said about these toilet roll holders 'we have put a lot of thought behind the design of the roll holders to make sure of coming up with ideas that can provide the users with best facilities. We have used modern techniques to make sure that our roll holders are high in utility and saving. We also assure our customers about the durability of these products.' This announcement shows how confident they are about the new ones they are releasing.
These Toilet Roll Holders are high in quality, as they are made with stainless steel, which are long lasting. CNM online has always been known for their products for restroom uses, which have served the purposes of clean and hygienic restrooms of public, residential and household plots. Their products are known for high quality and great style. This is one reason why the corporate organizations have used the products from CNM online in their restrooms, as that make their restrooms look classy, which is important for their image. This surely says that these roll holders for toilets will be trustworthy and helpful too.
The executive manager of CNM online recently announced 'we are making sure that these roll holders come with a great range of choices for our customers. This is one thing which makes our new releases really something to look forward for, as they will serve the purpose of every restroom. We have the most expertise and well trained employees who are there for your help 24 hours a day. We also have the reviews of toilet roll holders, provided by customers, available for everyone to read before buying.