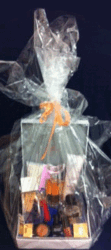 "We decided that with a high population of female attendees at the HR Florida 2012 Conference that a gift basket of Designer Cosmetics and Fragrances would be popular attraction and reward for visiting our booth." said Peter Dehlinger, President
Deerfield Beach, FL (PRWEB) September 13, 2012
Gatekeeper Business Solutions, a time & attendance company, is pleased to announce Jackie Pawlick of Jacksonville Golf & Country Club as the HR Florida 2012 Conference & Expo Raffle Drawing Winner. Jackie Pawlick received the basket of designer cosmetics and fragrances for visiting Gatekeeper Business Solutions booth at the HR Florida 2012 Conference & Expo.
Jacksonville Golf and Country Club is a private, member-owned country club located just minutes from the beach in Jacksonville, Florida. Over the years it has become one of the most desirable gated, golf communities and country clubs to be a part of in North Florida. Member's experience an active, family-oriented, private club that provides service that is second to none in an atmosphere that offers relaxed yet refined comfort. The Club prides itself with one of Northeast Florida's finest championship golf courses along with an award winning tennis center. Jacksonville Golf and Country Club members enjoy first-class dining, a heated junior Olympic swimming pool, and family friendly wading pool, full service fitness center that also offers relaxing spa services; and a variety of recreational activities for all ages with unrivaled opportunities for quality social interaction.
"We decided that with a high population of female attendees at the HR Florida 2012 Conference & Trade Expo that a gift basket of Designer Cosmetics and Fragrances would be popular attraction and reward for visiting our booth. Our congratulations to Jackie as the winner of the raffle out of over 100 business cards entered in the drawing," said Peter Dehlinger, President, Gatekeeper Business Solutions, Inc.
Gatekeeper Business Solutions offers a user friendly, web enabled labor management application creating significant savings in labor costs, improving administrative productivity and increasing revenue. Gatekeeper Business Solutions is also a leading provider of data collection devices such as biometric clocks, badge/swipe clocks, fingerprint readers, and PC terminals allowing for ease of data collection to input into the Gatekeeper labor management system.
About Gatekeeper Business Solutions, Inc.
Gatekeeper Business Solutions, Inc., a labor management systems company, offers a proprietary suite of software tools (lms.net), including time and attendance, scheduling, and integrated payroll software, for midlevel private and public sector companies. The company has provided a broad range of technology based solutions to manage labor costs to clients nationally. For more information, please visit the company's web site at http://www.gatekeepersolutions.com.