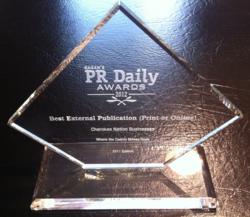 CATOOSA, Okla. (PRWEB) September 14, 2012
Cherokee Nation Businesses was honored nationally with a prestigious PR Daily Award from Ragan Communications on Tuesday. CNB's Where the Casino Money Goes was recognized as "Best External Publication" at Ragan Communications' award banquet held in Washington, D.C. The printed publication is produced to inform Cherokee citizens how profits from Cherokee Nation-owned casinos are spent.
"This publication is extremely important to our people, because it demonstrates transparency," said Cherokee Nation Principal Chief Bill John Baker. "Casino revenues continue to grow each year, and the Cherokee people deserve to know where all of their money is going. I am pleased that three times a year we use this publication to inform Cherokees how the casinos help fund our various programs and services."
Where the Casino Money Goes was originally produced annually but now prints three times per year. It is distributed in the Cherokee Phoenix newspaper and in magazine racks at casinos, the Cherokee Nation tribal complex, health centers, tag agencies and other sites around the Cherokee Nation. Along with fully disclosing the financial breakdown of how casino revenues are allocated, the magazine highlights success stories of Cherokee citizens.
From the writing of the content to the design work, Where the Casino Money Goes is produced by Cherokee Nation Businesses' communications department, with photography and printing outsourced to Cherokee-owned and -operated, TERO-certified businesses.
"We are so thrilled to be recognized on a national level like this," said Amanda Clinton, director of communications for Cherokee Nation and Cherokee Nation Businesses. "Our in-house team produces fantastic work on a daily basis, so this is wonderful validation of our hard work. This project is truly a team effort, from seeking out the stories, to writing to layout and design. We're extremely proud Ragan Communications chose to recognize this project as the best in the nation."
CNB competed in their category with Time Warner Cable, Diageo PLC, Akron Children's Hospital and Fine Point Public Relations and Advertising, Life Care Centers of America, LifeBridge Health, Resource Bank and UCB, Inc. Other winners at the awards ceremony included Southwest Airlines, American Airlines and Weber Shandwick, Cantor Fitzgerald, Consolidated Edison Co. of New York Inc., U.S. Department of Labor and Barnes & Noble College Marketing.
The Ragan Awards competitions are the most prestigious in the PR and corporate communications industry. With nearly 800,000 readers monthly, Ragan news sites are read by communication professionals in every country in the world, with nearly 600,000 in North America.
-30-
About Cherokee Nation Businesses
Cherokee Nation Businesses is the tribally owned holding company of the Cherokee Nation, the largest Indian Nation in the United States. The Cherokee Nation and its businesses employ more than 8,200 people. CNB owns companies in the gaming, hospitality, information technology, personnel services, distribution, manufacturing, telecommunications, environmental services and security and defense industries. For more information, please visit http://www.cherokeenationbusinesses.com.
To view the 2011 edition of Where the Casino Money Goes, please visit http://www.cherokeenationbusinesses.com/wtcmg/WT$G%202011%20Spring.pdf