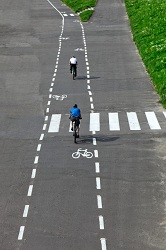 What is significant about this law is that it brings clarity and defines the distance motorists should put between themselves and bicyclists. This law has the potential to save lives
Newport Beach, CA (PRWEB) September 14, 2012
The Orange County bicycle accident lawyers of Bisnar Chase support SB 1464, which would require motorists in California to give bicyclists 3 feet of space as they pass from behind. According to a Sept. 4 news report in The Orion, the goal of the law is to clarify current state law, which says drivers should "safely" pass bicycles. The new law will remove the ambiguity by specifically stating the distance between other vehicles and bicycles.
According to California Highway Patrol's 2010 Statewide Integrated Traffic Records System (SWITRS), there were three fatalities and 1,187 injuries involving bicycle accidents. In the state of California, 111 fatalities and 12,591 injuries were reported due to bike versus car collisions.
The Orion article states that Gov. Jerry Brown rejected a similar bill last year because of a speed limit requirement. On Aug. 27, the California Assembly approved the bill with a 54-24 vote. The bill now only requires a signature from Gov. Brown to become law.
"This new law will create much-needed awareness among motorists to drive safely around bicyclists," said John Bisnar, founder of Bisnar Chase. "What is significant about this law is that it brings clarity and defines the distance motorists should put between themselves and bicyclists. This law has the potential to save lives."
More importantly, the bill focuses the discussion on bike safety. With Los Angeles and Orange counties pursuing funding for bike lanes and with a general push in these communities to make bicycling safer, the timing for such a law is perfect, Bisnar said. "If you are a bicyclist in the Southland commuting to and from work or getting a bit of exercise, you worry about getting hit, I do when I am biking," he said.
"No matter how many precaution bicyclists may take, they still have to worry about motorists who are impaired, distracted or simply inattentive and not paying attention. With the passage of this 3-foot law and with rigorous enforcement of this law, motorists will give bicyclists more room and motorists will realize that they need to be mindful of sharing the roadways with bicyclists who have just as much right to the roadway as motorized vehicles."
About Bisnar Chase
The Orange County bicycle accident attorneys at Bisnar Chase represent people who have been very seriously injured or lost a family member due to all types of traffic accidents. The law firm has obtained nearly two hundred million dollars in settlements and verdicts for its clients by winning a wide variety of challenging personal injury cases including those involving bicyclists.
For more information, call 800-561-4887 or fill out the form at http://www.bestattorney.com
Attributions: http://theorion.com/news/article_5472835e-f70e-11e1-ae19-0019bb30f31a.html
http://www.chp.ca.gov/switrs/