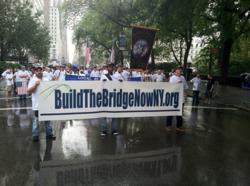 New York, NY (PRWEB) September 13, 2012
BuildTheBridgeNowNY.org, a statewide coalition formed to advance the replacement of the Tappan Zee Bridge, participated in the annual New York City Labor Day Parade on Sat., Sept. 8, marching on Fifth Avenue in Manhattan. The coalition last year launched a broad campaign to raise regional and national awareness of the need to replace the Tappan Zee Bridge and secure federal funding to enhance safety, relieve congestion, and create jobs for the local and regional economy. Tens of Thousands marched in the parade to support bringing jobs to the region. The Tappan Zee Bridge is expected to create more than 45,000 jobs and build a safe crossing that will serve the interstate system well into the next century.
On the verge of the announcement in the coming weeks to name the winning design-build construction team to replace the Tappan Zee Bridge, members of Iron Workers Local Union 40 – chanting "Build the bridge now!" – continued urging state and federal lawmakers to protect motorists, enhance commuter safety and spur economic development throughout the Downstate region.
"The Ironworkers District Council supports BuildTheBridgeNowNY.org and its efforts to bring much-needed employment to the region by supporting the construction of a new Hudson River bridge crossing," said Ed Walsh, president of the New York State District Council of Iron Workers. "Each year, we march in the Labor Day parade to encourage growth with good jobs that create strong communities and strong economies."
Progress on building the new river crossing has already begun, added Ross J. Pepe, treasurer of the BuildTheBridgeNowNY.org coalition. "We must encourage our New York State delegation in Congress to secure federal funding, to make the tolls affordable for both daily commuters and commercial vehicle operators who depend on this bridge each day."
Mr. Pepe, who also serves as president of the Construction Industry Council of Westchester & Hudson Valley, Inc., noted that BuildTheBridgeNowNY.org will continue to expand, capturing leaders from local and regional businesses, construction professionals and education community members who depend on the Tappan Zee Bridge for daily use.