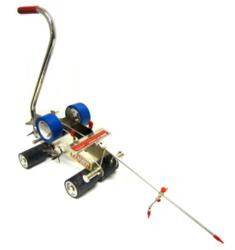 "We used the Straight Line 1000 in our new sports arena to mark all our lines for basketball and volleyball courts and we also used it for marking pedestrian pathways. It saved us money as we only needed one person to get the job done."
Lake Oswego, OR (PRWEB) September 16, 2012
When it comes to marking accurate lines for warehouse floor painting or for warehouse floor tape, the Straight Line 1000 is the tool that will get the job done and is now being offered through Creative Safety Supply. What this machine will do is apply parallel borders on warehouse floors quickly and easily from a standing position. Applications by this machine are great for air craft hangers, industrial warehouses, storage areas, sports and recreational arenas, parking areas, safety and directional guide lines, boundaries and restricted areas. The Straight Line 1000 is another great tool for any safety program as it works without strenuous work to the knees and is a great additional value by reducing workers compensation claims and will increase worker safety. With all this said, the bottom line is that more productivity and profit for the business is gained by use of the Straight Line 1000.
The parallel borders made by this one person machine can be adjusted in width from 1 inch to 8 inches to mark what is needed for the job. After accurately marking the proper aisle width, a one person can easily and quickly use a standard 4 inch paint roller to create crisp, clear and durable aisle markings for any type of forklift lane, pathways or aisles. If the job requires temporary floor markings, the Straight Line 1000 can also be used to apply vinyl safety tape and there is no need to use paint. As one sports arena facilitator commented, "We used the Straight Line 1000 in our new sports arena to mark all our lines for basketball and volleyball courts and we also used it for marking pedestrian pathways. It saved us money as we only needed one person to get the job done."
To receive more information about Straight Line 1000 or other floor markings, please visit http://www.creativesafetysupply.com or call toll-free (866)777-1360 to have all your questions answered.