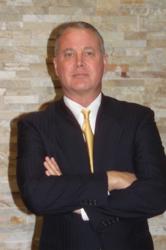 If you've been hurt in an 18-wheeler accident, sometimes a lawsuit is the only justice available
Houston, Texas (PRWEB) September 17, 2012
Weighing in at over 10,000 pounds of metal and cargo, 18-wheelers can cause serious damage and injury even in relatively minor collisions. Last year, over 5,000 accidents involving tractor trailers resulted in fatalities – and nearly 1,000,000 more caused life-changing injury and property damage. Texas, with its long stretches of highway and strong shipping industry, suffers over 400 big-rig-related deaths every year just within her borders.
Houston truck accident attorney Greg Baumgartner reports that a variety of factors compound the risk of accidents for those driving a tractor-trailer rig.

Heavy vehicles with large cargos require more room to stop and turn than lighter passenger cars and trucks.
Large vehicles strike with more force in an accident, causing more damage to individuals and property.
The structure of 18-wheelers leaves larger blind spots for the driver.
Tractor trailers have a high center of gravity, putting them at greater risk of turnover in high winds or on tight turns.
Improper loading of cargo can make the truck more difficult to steer and control.
Considering these elevated risks, drivers of 18-wheelers should be expected to drive only when fully alert and able to concentrate on the road. The Federal Motor Carrier Safety Administration sets rigid restrictions on consecutive hours driven, hours driven in a day and similar factors to make sure this happens.
"Unfortunately," says Baumgartner, "what the law requires and what people do aren't always the same thing" Time is money in the trucking business, with companies and drivers getting paid by the load or by the mile so the faster they can deliver their cargos the more profitable the trip. This leads to a number of unsafe behaviors that put those near tractor trailers at risk.
Surveys and discovery in truck accident lawsuits suggest that a number of truck drivers falsify their logbooks to drive more hours each day than permitted by federal regulations. At best, this puts a fatigued driver behind the wheel of one of the most dangerous vehicles on the road. Worse, some drivers rely on stimulants ranging from coffee to illegal drugs to stay alert during those extra hours.
Truckers are equally vulnerable to factors that make regular driving unsafe. Baumgartner has handled cases where the truck driver was either drunk, texting, speeding or dealing with improperly maintained equipment at the time of an accident.
Trucking companies routinely dispatch legal teams to the scene of an accident immediately, to coach drivers and gather evidence to point fault at the victim or others to attempt to avoid responsibility. To help even the playing field for victims Houston 18 wheeler accident lawyer Greg Baumgartner has created a free resource website for victims of 18-wheeler crashes: http://www.18-wheeleraccidentattorney.com/.
Baumgartner's law firm represents those hurt in 18-wheeler accidents, bringing decades of combined experience to navigate the complexities of liability in these cases. "If you've been hurt in an 18-wheeler accident, a lawsuit may be poor comfort," Baumgartner says, "but it's often the only justice available."