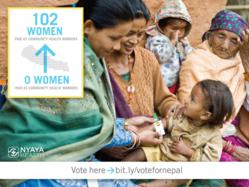 To truly break the cycle of poverty and create long-term change, women must move from patient to paid caretaker. And our team is making that happen – proving that progress is possible. — Executive Director Mark Arnoldy
Boston, MA (PRWEB) September 13, 2012
In the Far-Western Region of Nepal, one of the least developed areas in the world, women and children are in serious need of expanded options for health care. One nonprofit organization, Nyaya Health, is expanding access to health care through its work in the once-closed Bayalpata Hospital. As part of that expansion, Nyaya Health works to both provide women and children with access to free, quality care and to help lift women out of poverty by employing more than 100 women as paid community health workers.
"Women really do hold up half the sky," said Mark Arnoldy, executive director. "Providing treatment for women is an important part of our mission, but it's not enough. To truly break the cycle of poverty and create long-term change, women must move from patient to paid caretaker. And our team is making that happen – proving that progress is possible."
The expanding number of community health care workers is helping to address what the World Health Care Organization calls a "critical shortage." Nepal has fewer than 23 doctors, nurses and midwives per 10,000 people. The WHO says this lack of trained workers is "hampering the delivery of health services," including to women and children, and calls for community-based health care work as a solution.
Now through Sept. 19, Nyaya Health is competing in the annual Chase Community Giving program, an online contest where supporters' votes can translate into expanded health care for people living in one of the world's poorest regions. Nyaya Health has been nominated for a share of $5 million in grants, which will provide free health care for thousands in rural Nepal. Anyone can learn more about the organization's work at its website. Supporters are also encouraged to Tweet for Nyaya Health with the hashtag #VoteForNepal and to vote at bit.ly/votefornepal.
"Winning this contest means we can expand our work to 5 clinics to provide more free health care for rural Nepalis, including women and children," said Arnoldy. "Help Nepal with a single vote."
Mothers and children in Nepal regularly die from conditions that are routinely treated in the United States. Nepali women and children are in desperate need of more options for care and health education:

Just 20 percent of births took place in a health facility
Almost a quarter of married women in the region don't know about family planning
86 percent of children ages 6-11 required use of a deworming tablet in 2010
More than 1 in 10 Nepali women suffer from chronic illness
Half of children under five suffer from stunted growth caused by chronic malnutrition
Through Nyaya Health's work, community health workers travel the area, educating members of the community on a variety of health issues, such as how proper sanitation can prevent disease and the services Nyaya Health can provide.
Nyaya Health is a charitable organization that believes everyone has the right to quality health care. In addition to providing day-to-day care, Nyaya Health partners with government agencies to promote the creation of just systems and "infrastructure for equity," which creates the possibility for the right to health and sustainable change.
The nonprofit is one of the world's most respected and impactful health care charities. Leading nonprofit evaluator GiveWell called Nyaya Health a "standout organization" because of its "unusual standards of transparency." Only 10 of the more than 800 organizations GiveWell examined received that distinction, and GiveWell named Nyaya Health a recommended charity for the 2011 holiday season.
"Nyaya Health needs your help to continue its mission of realizing health in the Far Western Region," Arnoldy said.
For interviews with Executive Director Mark Arnoldy or for additional background on Nyaya Health or the contest, contact Erin White, erin(at)caminopr(dot)com, 212.255.2575.
###
Nyaya Health brings life-saving, quality health care to rural Nepalis by establishing hospitals and clinics and training community health care workers. The nonprofit, which re-opened the previously abandoned Bayalpata Hospital, has brought free health care to more than 101,000 people in Nepal's Far-West Region.