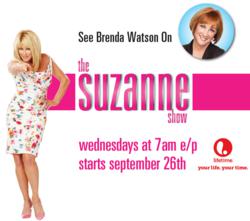 My passion in life is achieving good health - Brenda
Clearwater, FL (PRWEB) September 24, 2012
Brenda Watson, New York Times bestselling author, PBS health educator, and one of today's foremost authorities on digestive health, is bringing her breakthrough H.O.P.E. health formula to the morning talk show, The Suzanne Show, October 10, 17, 24, and 31, at 7am ET/PT on Lifetime network.
An Inspiring Health Discussion
For over 20 years, Brenda Watson, C.N.C. has focused on a critical and often-missed health concern, the link between digestive health and total-body wellness. Brenda has made education her primary concern through her health clinics, national lectures and televised appearances, and her informative books on better health through better digestion.
"My passion in life is achieving good health," says Watson, "and specifically good digestive health. As a nation, we are facing new and chronic medical challenges, and I like nothing better than sharing what I've learned. I'm thrilled to be doing just that with my friend Suzanne Somers on The Suzanne Show this fall."
The Suzanne Show, premiering Wednesdays this Fall on Wednesdays at 7am ET/PT on the Lifetime network, will highlight some of today's most exciting health, wellness, nutrition, beauty, and style professionals. The show's format will be informative and fun, and above all empowering. "I look forward to some inspiring discussions with Suzanne," says Watson. "We'll be exploring my H.O.P.E. formula and how we can all strive to be healthier."
H.O.P.E. on TV
Brenda will appear on four consecutive episodes of The Suzanne Show: October 10, 17, 24, and 31. She will discuss one segment from her four-part formula on each show, giving viewers an in-depth look at The H.O.P.E. Formula – High Fiber, Omega-3s, Probiotics and Enzymes.
The October 10th show will focus on High Fiber, the formula's gateway to weight loss, revitalizing digestive health, and removing harmful toxins from the body. "We will be talking poop," says Watson, "an often under-discussed subject. We'll also cover some surprising facts about fiber and fiber boosting tips."
The October 17th show features Omega-3 Oils. "These vital fats are missing in so many Americans' diets," says Watson, "and this lack is drastically affecting our health. I'll discuss how anyone can get more of these essential healthy fats into their diet and the crucial part they play in preventing and even reversing silent inflammation as well as the significant benefit they have on cardiovascular, brain and joint health."
On October 24th, Brenda will discuss Probiotics, a nutrient that is hot on health enthusiasts' list. "We are still uninformed as to what probiotics actually do and how important they are to balancing the gut," says Watson. "Suzanne and I will talk about how probiotics, the good bacteria inside of us, act as our own GPS, or Gut Protection System, and we'll unlock the mysteries of digestive balance, immunity, and get into some key points to watch out for when choosing a probiotic supplement."
Brenda's October 31st appearance on the show will cover the final segment in the H.O.P.E. formula, Enzymes. "If you get any of these symptoms after eating—heartburn, gas and bloating, or fatigue—you are most likely low in digestive enzymes, and are not digesting your food properly or reaping their nutritional benefits," says Watson. "I'll be talking about what you can do to correct this and change the way you view your waistline for good!"
Find Brenda Watson Online
In addition to her work as a nationally recognized digestive health expert, Brenda Watson is also the founder and president of ReNew Life Formulas. Brenda's website, http://www.brendawatson.com, features an extensive health blog, menu planner, the latest news on nutrition and natural health, and more. For additional information on Brenda Watson and her upcoming appearances on The Suzanne Show, please email: bcooper(at)renewlife(dot)com.