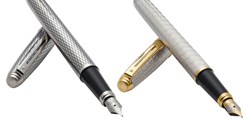 Toronto, Canada (PRWEB) September 14, 2012
Sheaffer Pen Corporation was founded by Walter A. Sheaffer during the early part of the 20th century. Now, one century later, their selection of luxury fountain and ballpoint pens is more relevant than ever. That's why Canadian retailers that recognize the importance of quality in today's post-modern world are proud to offer Sheaffer Legacy Heritage and Prelude Fountain Pens to their selective clientele.
The Sheaffer Legacy Heritage Collection claims special attributes such as brushed gold plate, engraved sterling silver or black laqué finish. Easy to hold and handle, they are equally easy to refill for a lifetime of use.
The Sheaffer Prelude Pen Collection boasts a selection of pens that count appearance and comfort among their many benefits. These fountain pens are embellished with 22K gold plate or chrome plate trim and come with a unique pearlized insert. They provide the ultimate writing experience and make thoughtful gifts.
Sheaffer Fountain Pens represent the very best in their class. The most impressive of the pens from the Legacy Heritage Collection and Prelude Collection can be found at exclusive international retailers such as Canada's Fendrihan.com. The pens feature fine finishes such as palladium, black lacquer, brushed chrome and unique details like nickel-plate trim, 22K gold plate or chrome plate trim.
About Fendrihan:
Fendrihan is a Canadian-based online vendor that supplies elegant gifts for men as well as fine shaving and grooming products from all over the world. With a range of products that is constantly growing and expanding, it is no surprise that Fendrihan has an international following. The Fendrihan compendium also includes fine writing instruments and standout European leather accessories offering the organization and clever convenience demanded and appreciated by their customers.