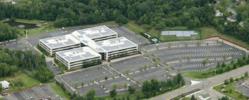 "As an Energy Star partner and a U.S. green building council member, this solar installation is the latest improvement undertaken by Eastman Companies as part of its ongoing commitment to going green."
Louisville, CO (PRWEB) September 17, 2012
Hudson Energy Solar, Smart Energy Capital and RGS Energy are pleased to announce the completed installation of a 500kW solar PV system at the Eastman Companies' Eisenhower Corporate Campus in Livingston, NJ. To showcase Eastman Companies' commitment to the environment, a 68kW of the total system was installed on a prominent hillside near the Eisenhower Corporate Campus making at least part of the installation highly visible.
Commissioned in July 2012, the project was funded by a power purchase agreement (PPA) through Smart Energy Capital. Design and installation was led by RGS Energy, the commercial and utility division of Real Goods Solar. Hudson Energy Solar, which specializes in providing commercial and residential customers with renewable energy solutions, will own and operate the system.
Eastman Companies, an Energy Star partner and US green building council member, and its partner in this office campus, Long Wharf Real Estate Partners LLC, took this strategic location and added a host of important amenities and sustainable practices that are vital to a productive business environment. Eisenhower Corporate Campus, an award-winning facility and home to Eisenhower Conference Center, is very excited to have the "switch flipped" for this solar PV system.
"The Eastman commitment to solar power will help to significantly lower CO2 emissions over the course of 25 years, which is equivalent to planting over 10,000 trees, and reducing the consumption of 47,813 gallons of gasoline each year," said Abe Grohman, Chief Executive Officer of Hudson Energy Solar.
"As an Energy Star partner and a U.S. green building council member, this solar installation is the latest improvement undertaken by Eastman Companies as part of its ongoing commitment to going green," said Peter E. Schofel, President of Eastman Companies. "Eighty percent of our improvements have been installed following LEED guidelines, and this complex is a LEED candidate."
"By going solar with a commercial PPA, Eastman Companies is able to control its operating costs while investing in its future," explained Jeffrey Schmidt, President of RGS Energy. "This type of financing is making it possible for more organizations to follow the lead of Eastman and reduce their carbon footprint."
According to Rob Krugel, Managing Partner at Smart Energy Capital, a leading solar developer and financier, "this installation showcases the successful collaboration between RGS Energy, Smart Energy Capital and Hudson Energy Solar. By combining Hudson's financing, RGS Energy's engineering, design and construction, and our development expertise under a single umbrella, we were able to deliver a complete solution to the Eastman Companies for this project."
About Hudson Energy Solar
Hudson Energy Solar harnesses the power of the sun to provide innovative, sustainable energy products to residential and commercial customers. With the installation and maintenance of solar photovoltaic systems on home and building rooftops, Hudson Energy Solar brings more affordable, renewable energy directly to the consumer enabling them to reduce their environmental impact as well as their energy costs. With no upfront fees, customers pay only for the power generated by the system, providing significant savings on their electric rates. Hudson Energy Solar Inc. is a subsidiary of Just Energy Group Inc., a publicly traded company (NYSE:JE and TSX:JE) serving close to 2 million customers across North America. Visit hudsonenergysolar.com to learn more.
About Real Goods Solar, Inc.
Real Goods Solar, Inc. is a leading residential and commercial solar energy EPC provider, having installed over 13,000 solar systems. Real Goods Solar offers turnkey solar energy services and has 34 years of experience in solar energy, beginning with the sale in 1978 of the first solar photovoltaic, or PV, panels in the United States. With 15 offices in California, Colorado and the Northeast, Real Goods Solar is one of the largest residential and commercial solar providers in the country. For more information about Real Goods Solar, please visit RealGoodsSolar.com, or call (888) 507-2561.
About Smart Energy Capital
Smart Energy Capital, LLC is a leading solar development and finance company headquartered in White Plains, New York. Smart Energy Capital maintains access to multiple investor funds and has successfully developed and financed more than 65 MWs of solar PV projects over the past 18 months for municipalities, schools, commercial entities, and utilities across the country. For more information about Smart Energy Capital, please visit http://www.smartenergycapital.com, or call (914) 618-4788.
About Eastman Companies
Eastman Companies is a recognized leader in high quality real-estate developments with properties throughout New Jersey. Eastman is headquartered in Livingston and boasts a portfolio of more than 1.6 million sq. ft. of office, retail, and industrial space located in Morris, Essex, Bergen, and Burlington Counties.
About Long Wharf
Long Wharf Real Estate Partners LLC is a Boston-based private equity real estate manager that invests in value-added transactions across the U.S. on behalf of institutional clients, including corporate and public pension funds, endowments and foundations.