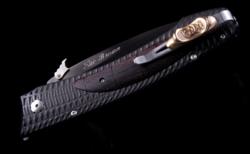 It's an incredible opportunity to be able to work with William Henry to help children who need - Zac Brown
Atlanta, GA (PRWEB) September 17, 2012
Luxury brand William Henry has teamed up with Grammy-award winning musician Zac Brown to create a unique pocketknife collaboration. The special collection is made with the wood from one of Brown's first guitars – truly a collector's item.
The collection is designed to benefit the opening of Brown's passion project Camp Southern Ground, with 100% of all proceeds going to support the non-profit. The camp will be the fruition of Brown's lifelong dream of providing a state-of-the-art facility whose programs will serve children ages 7-17 with both typical and special needs. The collection will be sold exclusively on the Camp Southern Ground website at http://www.campsouthernground.org.
Brown's personal passion with knifemaking led to the collaboration with William Henry founder, Matt Conable. The two spent time together to develop the collection, with months of design cooperation between Brown's camp base in Georgia and Conable's studio in Oregon. The resulting collection is an infusion of the wood elements from Brown's guitars, together with a redesigned version of the original William Henry E series, bringing together an artistic natural element and the southern charisma of the Georgia native.
"I've always been interested in knives, so being able to create this beautiful collection with William Henry, as well as donate all the proceeds to help children who need it the most is an incredible opportunity," says Brown. "It seemed natural to take one of my first guitars, where my passion for music started, and turn it into something that can benefit one of my passion projects today, helping children."
"Donating all profits from sales from the Zac Brown pocketknife collection to help Camp Southern Ground is a way to pay tribute to Zac's musical legacy and generous spirit," says Conable. "We are honored to take on this project that will give these special young individuals a chance to shine and excel in every facet of life."
The pocketknife collection will be available for purchase late Fall 2012 exclusively at http://www.campsouthernground.org. For more information on William Henry, please visit http://www.whstudio.com.
###
About William Henry
William Henry is an American luxury brand devoted to the vision of designing and creating superlative functional jewelry. Designer and entrepreneur Matt Conable founded the company in 1997 and is now the sole owner. Conable first established the brand creating exclusive and award-winning pocketknives, effectively transforming the archetype of all tools into a superb piece of functional jewelry for men. Today's collections include writing instruments, money clips, and golf tools.
The seamless integration of classic natural materials, precious metals & gemstones, and state-of-the-art alloys is a hallmark of William Henry's work. The brand creates limited editions only, and no two pieces are ever replicas. William Henry's collections are available on its website and through a select network of authorized retailers in the US and abroad. For more info on WH visit http://www.whstudio.com.
About Camp Southern Ground
Nestled on nearly 500 acres in the farmlands of Georgia, Camp Southern Ground is the passion project of GRAMMY-Award winning artist Zac Brown. Inspired by his own experiences as a camp counselor, Zac's vision is to create a state-of-the-art facility whose programs will serve children ages 7-17 with both typical and special needs. Set to open in Spring 2014, the camp will have activities that will challenge, educate, and inspire children with diverse abilities and from all socioeconomic backgrounds, races, and religions. Among the many traditional camp activities that will foster youth development and create teachable moments for campers, plans are in place to align certain elements of the facility with the latest innovative therapies and technology for those children affected by neurobehavioral disorders.
Zac has long recognized the necessity for every child to have access to the best resources to be able to grow and succeed, and accordingly, Camp Southern Ground will be a place for children and their families to learn healthy life skills through an advanced program involving superior nutrition, physical exercise, and the latest practices in therapy—all administered by a knowledgeable staff. Camp Southern Ground.
For more information on Camp Southern Ground, please contact Elizabeth Lutz (elutz@shorefire.com), David McTiernan (dmctiernan@shorefire.com) or Rebecca Shapiro (rshapiro@shorefire.com) at Shore Fire Media, 718.522.7171, or Liz Norris at ROAR, 310.424.7800 (media@roar.la).