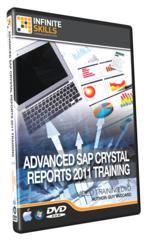 Advanced Crystal Reports 2011 Training DVD
(PRWEB) September 15, 2012
Software training company InfiniteSkills Inc. has announced its Advanced Crystal Reports 2011 Tutorial Video Course, with 79 separate training lessons on extended features, filtering options and programming techniques to help users generate more complex and useful reports with the business application.
The Crystal Reports tutorial is narrated by technology trainer and consultant Guy Vaccaro, author of over 15 other courses and a specialist in business software and database technologies. The training can be purchased on DVD-ROM or as a download from the company website for $99.95 USD, or as part of a comprehensive bundle with the beginners Crystal Reports tutorial for $149.95.
Advanced Crystal Reports 2011 Training - Tutorials Online and on DVD
The Advanced Crystal Reports training course assumes that viewers have a general proficiency with the platform, knowing how to connect to databases, generate basic reports, work with formulas and sort and summarize their data. From this starting point, Vaccaro moves into conditional formatting techniques, showing how to flexibly control the presentation of data based on values and properties of the data itself.
Next, the tutorials cover working with parameters for filtering and control, creating report alerts for common conflicts and errors and developing multiple report sections and subreports. This range of Crystal Report training was designed to help users create reports that are both more targeted to specific data and overall more complex, depending on the needs of their projects.
Finally, the training moves into the creation of visual charts and cross tabs for concise, impactful communication; programming techniques such as user-defined functions and custom SQL and also Crystal's mapping feature that allows relevant data to be represented geographically.
"The beginner's Crystal Reports course was a guide for giving users a degree of access to and control over their data," said Chris Johns, content coordinator for InfiniteSkills. "This Advanced Crystal Reports training goes even further; it lets the user really narrow in on the data they need and present it in a number of different ways."
Johns said the training has been created for people working both remotely or within an office environment with their own data, but for educational purposes sample data sources and templates are included. The work files are packaged in the DVD and download editions of the training, and early lessons in the Crystal Reports tutorial show how they can be accessed and used.
"Guy is great at helping even beginners understand how end-user programs like Crystal Reports and Microsoft Office tools tie back into more complex frameworks," Johns said. "Anyone who has watched the beginner Crystal training will feel right at home in the advanced course."
The 7-hour Advanced Crystal Reports 2011 Tutorial Video can be ordered on DVD-ROM or as a downloadable digital edition for $99.95 USD. The complete Crystal Reports 2011 bundle featuring the beginners training totals 16.5 hours and can be ordered for $149.95 USD. Purchasing options are available worldwide.
More information on the training and numerous free demo videos can be found on the InfiniteSkills website:
http://www.infiniteskills.com/training/advanced-sap-crystal-reports-2011-training.html
About InfiniteSkills Inc.
A leader in the field of software training, InfiniteSkills strives to offer the highest quality training at an affordable cost. InfiniteSkills tutorials are task-oriented instructional videos, teaching complex skills by providing hands-on examples and guiding users as they carry out critical objectives. InfiniteSkills offers a comprehensive range of software titles available as DVDs, digital downloads, and in iPad editions, keeping with company aim of delivering professional training to customers anywhere they want to learn.