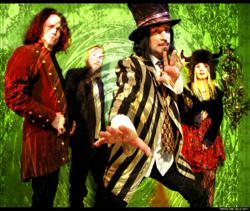 "Simply one of the finest American bands...
— All Music
"9 out of 10 - Love at first spin!" — Americana UK
Hoboken, NJ (PRWEB) September 18, 2012
Any true music aficionado knows Hoboken, NJ has a significant place in indie music history. Great bands got their start there, Bar/None Records is based there and Maxwell's (where R.E.M., Nirvana, and countless others graced the stage) was at the center of it. So how appropriate it is that Maxwell's is hosting their oh-so-adventurous musical neighbors to the north, The Grand Slambovians who bring their show to town this Saturday, Sept. 22nd at 8 pm.
Formed in Sleepy Hollow, New York a decade ago, The Grand Slambovians (AKA Gandalf Murphy in recent years) have built their career from the ground up in true DIY style, charming audiences and winning over local radio and press since their inception. "This band is a wonderful surprise - great songs and a whole lotta heart. " - Meg Griffin, Sirius-XM Radio. If Springsteen were a mystic or Dylan had met The Band in art school, this is the likely result. Featuring songwriter Joziah Longo (vocals/guitar/harmonica); Tink Lloyd (accordion, cello, etc); Sharkey McEwen (guitar, mandolin); and new drummer Eric Puente this band is known for it's contagious vibe that captivates audiences of all ages and persuasions. Playing an art-school tinged roots-rock, sometimes folk and quirky americana, they've toured the U.K., U.S. and Canada this year in support of their latest album and aren't coming home empty handed to Maxwell's, but with Higher Animals – a band on the verge who's debut cd is in the works at Bronxville NY's legendary Loft studios. This is a first time for both at Maxwell's.
The Grand Slambovians 2011 release (self titled) received rave reviews here and abroad: Americana UK gave it a "9 out of 10" and proclaimed, "Every so often an album comes along that knocks your socks off! Love at first spin…. Americana with a twist". Melodic avant-folk and nickname "the hillbilly Pink Floyd" – conjures Tom Petty, Dinosaur Jr., elements of Incredible String Band, Syd Barrett, Neil Young, The Band, Dylan, and visually a bit of Frank Zappa as well. All Music proclaimed them "…one of the finest American bands". Scotland's Big Issue described the band as "Soothing and bewitching as a snake oil tonic!" Devotees come from all over the world every year for their annual 'Grand Slambovian Halloween Ball' (Webster Hall October 27, 2012 in NYC). The band's appearance at Maxwell's is a long overdue event and what better way to do it than with a new band in tow that inspires the headliners!
Saturday, September 22nd 8:00 PM Maxwell's 1039 Washington St. Hoboken, NJ
Tickets: $20 http://www.maxwellsnj.com