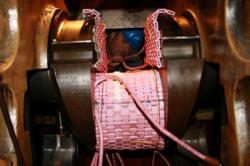 Hamburg, Germany (PRWEB) September 17, 2012
The approved procedure is designed to reduce excessive hardness in damaged crankshaft journals through annealing (heat treatment) of the crankshaft with a minimum amount of material removal. The process is specifically targeted at salvaging crankshafts that would otherwise be condemned and require replacement due to the severity of the hardness exceeding engine maker specifications. Goltens' experience has demonstrated that this hardness can be significantly reduced to within acceptable limits and that, after annealing, finish machining can restore the machinery to service with significantly less loss of crankshaft diameter as well as the avoidance of costly shaft/equipment removal and replacement.
"This certification is the culmination of years of R&D and successful applications across a wide range of engine makes and models in the field and in the workshop by our technical teams. Obtaining Germanischer Lloyd approval is validation that our process is safe, repeatable and effective in repairing crankshafts that would otherwise likely have been condemned. Further, the fact that approval covers our global network of stations and not one location demonstrates the value of our investments in consistent tooling and repeatable processes" notes Paul Friedberg, President of Worldwide Services for Goltens.
About Goltens:
Established in New York in the 1940s and today operationally headquartered in Dubai, Goltens is a leading provider of specialized engine repair, maintenance, reconditioning services and trading of engineering components for the worldwide shipping industry, offshore marine installations, industrial plants and power stations. For years, Goltens has been the most trusted company for in-situ machining, diesel engine repair and maintenance, and now ballast water treatment retrofits. The company is the only independent repair specialist to offer shipowners, managers and OEMs all-inclusive worldwide service from its 21 locations around the globe, and serves over 4,000 clients each year.