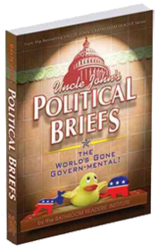 We lighten the situation and give real facts and funny stories that can be used when you find yourself stuck in that awkward political debate with friends or coworkers
San Diego, CA (PRWEB) September 18, 2012
In time for the 2012 election, the bestselling Uncle John's Bathroom Reader series announces its new book, Uncle John's Political Briefs. Uncle John criss- crosses the aisle to look at the history (and lunacy) of our "govern-mental" machine. Starting with the birth of democracy in the western world, Uncle John shows how today's political landscape was shaped and gives an inside look at how government works (and doesn't work) like only an insider from the Bathroom Reader Institute can.
"Let's face it, every four years the Fall is overtaken by talks of politics. From newscasts to conversations, everyone gets political," says Gordon Javna, Editor-in-Chief and Publisher of Portable Press. " It doesn't matter if you are a Republican, Democrat or Independent, the process can be funny. And that's what we are about; We lighten the situation and give real facts and funny stories that can be used when you find yourself stuck in that awkward political debate with friends or coworkers."
With articles and facts from both past and current elections, this book shares all you (really) need to know about politics. Get the scoop on the past president who fell victim to a voodoo curse or the one who survived two assassination attempts in one month. Learn more about the origins of the pledge of allegiance and "Hail to the Chief" and all about the crazy things anchorman Dan Rather has been quoted saying during election night coverage.
Uncle John's Political Briefs (978-1607105602, 288 pages) is now available in stores, or online for $9.95.