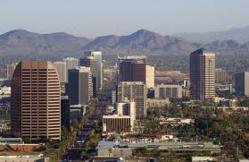 Top-notch educational programming for the "Valley of the Sun", Phoenix, AZ.
Coral Springs, FL (PRWEB) September 15, 2012
Today in America TV is pleased to announce the release of September air dates for the city of Phoenix, Arizona. The engrossing program will air on KAZ-TV "Arizona's Own". Phoenix, which is located in the center of what is called the "Valley of the Sun", has shed its frontier image and become an affordable city to live, work, raise a family and retire. It is the fifth-largest city in the USA with a workforce strong in the high tech, aerospace and service industries. It offers residents a low cost of living, friendly business environment and more than 100 days of sunshine per year. Sports fans will love knowing many national sports teams hold their spring training in Phoenix every year.
Show host Terry Bradshaw is a former professional football player and NFL Hall of Fame inductee. His all-time passing record remains unbroken today. He is one of the most recognized sports personalities in the country. Bradshaw has over 20 years of broadcasting experience as a commentator and analyst on national television networks and has appeared in feature films and comedic television shows. He is the only former NFL player who received a star on the Hollywood Walk of Fame and remains as popular today as he was during his 14 year career in football.
Today in America Terry Bradshaw is an innovative program which focuses on topics of every day living. Viewers get an inside look at businesses geared toward the health, environment, technology and lifestyle industries. The show films on location across the country and in Canada and airs on national and regional cable television networks. Learn more about the program, its host and watch sample videos at todayinamericatv.com. Social media fans are welcome to join the show on Facebook, Twitter and YouTube.