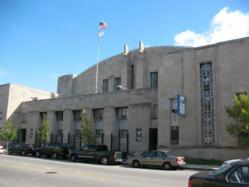 There has been an increase in cities and towns trying to modernize while still keeping the same look and feel, we are always glad to help someone preserve an image or feel for a particular area
Morris, Illinois (PRWEB) September 15, 2012
It is the purpose of historical societies to determine which buildings have this significant impact on communities or even as a nation. Certainly a home that Abraham Lincoln resided in would definitely have historical significance and therefore be preserved by the historical society. Then there are other structures that have historical significance due to unique architecture, location, become a visual fixture in a community, or built by a master craftsman like Frank Lloyd Wright. But as time passes, these buildings require more and more maintenance to keep the integrity of the building intact. Many times communities see their beloved landmarks begin to fall apart before their eyes. It is the purpose of the historical society then to oversee the renovations to make the existing structure as original as possible.
Since the early 1900's glass blocks have been used in many buildings that are today considered to be "historical". While many manufactures have gone out of business or have drastically changed the properties of their glass blocks, one has remained the same since its creation early last century. Argus glass block has remained extremely popular with commercial construction due to the durable construction, light transmission and allowing for moderate privacy. Many of the buildings that used this glass block during construction are now being renovated by historical societies around the nation. Many are turning to Quality Glass Block and Window for their high level of expertise and service and capabilities.
Quality Glass Block and Window Co. have recently aided a local construction company with the renovations to the Northwest Armory in Chicago Illinois. With the need several thousand pieces of Argus glass block, Quality Glass Block supplied them with what was required for this scope of the project. Ray Tuminello, President of Quality Glass Block and Window Co. shared his views on the historical society's decision to renovate several structures within Illinois. "They are doing great work everywhere, the buildings are looking well maintained and still possess that historical feel, and the modern retrofits being applied will help to keep maintenance costs down due to the improvements made to products over the years." Quality Glass Block has been helping other modernization projects as well. "There has been an increase in cities and towns trying to modernize while still keeping the same look and feel, we are always glad to help someone preserve an image or feel for a particular area," said Tuminello.
The Argus glass block has remained the same since day one. These historically significant glass blocks can be found at Quality Glass Block and Window Co. or directly online at their website at http://www.qualityglassblock.com. Quality Glass Block has the capabilities of providing matching products for architectural approval and providing almost limitless amounts of glass block needed for any job.
Quality Glass Block and Window Company (http://www.qualityglassblock.com) is a leading provider of glass blocks used for windows, shower enclosures and vents. In addition to wholesale glass blocks, Quality Glass Block and Window Company provide installation services or guidance for do-it-yourself builders and homeowners.