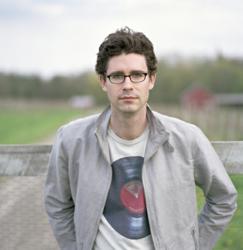 Riverdale, NY (PRWEB) September 14, 2012
For a fifth consecutive semester, the Manhattan College English department will host the Major Authors Reading Series (M.A.R.S.), starting on Tuesday, Sept. 25 with award-winning author Joshua Ferris.
Designed to engage and expose students to modern literature, M.A.R.S. has brought a variety of celebrated writers to campus for readings and book signings. Noted authors who have visited since the series began in 2010, include Pulitzer Prize winners Junot Diaz, Jennifer Egan and Claudia Emerson, novelist Rick Moody, essayist Phillip Lopate, and Marie Howe, the current Poet Laureate of New York State.
Ferris's first novel, "Then We Came to the End," was named to "The New York Times" 10 Best Books of 2007, along with being honored as a National Book Award finalist. On top of this, Ferris won the 2007 Hemmingway Foundation/PEN Award and the Barnes and Noble Discover Award. In 2010, Ferris released his second novel, "The Unnamed." His short fiction has appeared in "The New Yorker," "The Guardian" and "Tin House," among other publications. Currently, Ferris is working on his third novel, "The Third Bishop," which will be released in 2013.
"The Los Angeles Times" described "Then We Came to the End" as: "What looks at first glance like a sweet-tempered satire of workplace culture is revealed upon closer inspection to be a very serious novel about, well, America. It may even be, in its own modest way, a great American novel."
After Ferris, M.A.R.S. will continue on Nov. 27 with Patricia Smith, author of seven acclaimed volumes of poetry. Smith is also a four-time National Poetry Slam champion, the most successful poet/performer in the competition's history.
Both the Sept. 25 and Nov. 27 readings start at 4 p.m. and will be held in Hayden Hall, room 100. All M.A.R.S. events are open to the public.
For more information about the M.A.R.S. series at Manhattan College, contact Adam Koehler, assistant professor of English, by email at adam.koehler(at)manhattan(dot)edu or by phone (718) 862-7546, or David Eye, visiting assistant professor of creative writing, by email at david.eye(at)manhattan(dot)edu or by phone (718) 862-7921.