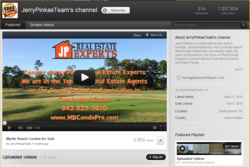 Myrtle Beach, SC (PRWEB) September 14, 2012
The Jerry Pinkas Real Estate Team is very proud to say that their YouTube Channel, JerryPinkasTeam, has reached over 1,000,000 views. Their team has over 260 informative videos that depict various areas and home around Myrtle Beach. This has been especially helpful for those who live outside of the area, and are looking for Myrtle Beach homes for sale. Prospective home buyers no longer have to travel all the way to Myrtle Beach to see these communities and homes. Subscribing to the Jerry Pinkas Team's YouTube channel enables users to better narrow their home search right from the comfort of their couch.
By watching a few of Jerry Pinkas Team's videos it is easy to see why theirs is the #1 ranked Myrtle Beach Real Estate YouTube channel. Their videos show everything a prospective home buyer would want to see. There are videos for individual homes as well as many of the available condos and condo complexes around the Myrtle Beach area. YouTube users get a great view of both the interior and exterior of the homes. Video walk-throughs present a much clearer picture of the available space than a still photo. See how kitchens flow into living spaces and get a better feel for the layout of the property. Videos depicting condos and condo complexes show important factors like proximity to ocean, property amenities and much more.
Anyone who is looking to purchase a home or condo can benefit tremendously by watching videos on Jerry Pinkas Team's YouTube channel. Narrowing the home search before actually visiting the properties can save home buyers a significant amount of time. Those who don't live in the Myrtle Beach area can also save money by not having to travel back and forth to Myrtle Beach to view properties. YouTube channels, like Jerry Pinkas Team's channel, have changed the real estate industry for the better and this specific channel is sure to grow in the coming months and years. Users can subscribe to the channel and get updates on any new videos the Team posts.
JP Real Estate Experts is one of the top teams of Myrtle Beach realtors in the Grand Strand. JP Real Estate Experts was ranked in the top 1% of Myrtle Beach realtors in closed transactions for 2011 and has been named as one of the Top 250 Real Estate Teams in the U.S. by the Wall Street Journal. JP Real Estate Experts specializes in the buying and selling of Myrtle Beach homes from a variety of neighborhoods including Carolina Forest, The Villages of Arrowhead and Grande Dunes. JP Real Estate Experts also specializes in the Myrtle Beach condo market selling condos from communities such as Margate Tower and The Cottages at North Beach Plantation.