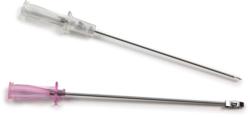 Bethlehem, PA (PRWEB) September 18, 2012
The B. Braun OEM Division (http://www.bbraunoem.com) of B. Braun Medical Inc. – an FDA-registered, ISO 13485 provider of contract manufacturing services and components for medical devices and custom kits – is now offering the Safecan™ Safety Introducer Needle as a finished sterile product for end-market use. It complements the bulk, non-sterile option already offered.
Used to gain vascular access for the placement of a guidewire, the Safecan Safety Introducer Needle is designed to reduce the risk of needlestick injury and promote OSHA compliance. It features a patented safety clip that covers the needletip upon user activation and a sharp, lubricated needle tip designed to facilitate smooth access and minimize resistance during insertion.
B. Braun OEM Division offers the Safecan Safety Introducer Needle in 21G and 18G sizes, both with a 2.75-inch needle either with or without an echogenic tip to facilitate the needle location via ultrasound. Custom options are also available.
The Safecan Safety Introducer Needle is part of a portfolio of components designed to minimize needlestick injuries and make healthcare delivery safer. Other safety products from B. Braun OEM Division include needle-free valves, needleless admixture devices and safety IV catheters.
For more information about the Safecan Safety Introducer Needle, contact the B. Braun OEM Division toll free at 866-8-BBRAUN or visit http://www.bbraunoem.com.
About B. Braun OEM Division
B. Braun OEM Division (http://www.bbraunoem.com) delivers complete contract manufacturing capabilities focusing on fluid administration and admixture products, kits, valves, catheters and interventional accessories. OEM takes customers' designs from the earliest stages through design prototyping, assembly, packaging and sterilization. The B. Braun OEM Division of B. Braun Medical Inc. is based in Bethlehem, Pa.
About B. Braun
Since the early 19th Century, B. Braun has met a myriad of challenges in modern medical therapy with meaningful and trusted solutions. The B. Braun group of companies, including B. Braun, Aesculap® and Central Admixture Pharmacy Services, Inc. (CAPS®), represent thousands of innovations in acute pain management and infusion therapy that are intended to improve care and lower costs while reducing risks to patients and workers. Guided by the company's "Sharing Expertise®" philosophy, B. Braun works with motivated partners and customers to address the critical issues of infection prevention, medication safety and environmental responsibility.
The B. Braun corporate mission to bring solutions that lead to better patient care have earned the company dozens of awards, certifications and recognitions for innovative products, employment practices, "green" initiatives and community responsibility throughout the world. Consistently recognized by Frost & Sullivan for its medical technology and support services, B. Braun provides professional training through its Aesculap Academy, reaching over 45,000 healthcare professionals each year, teaching best practices that help clinicians reduce medication errors, prevent healthcare-acquired infections (HAIs) and achieve sustainability objectives. For more information, call 800-227-2862, e-mail us at inquiry.us(at)bbraun(dot)com or visit B. Braun at http://www.bbraunusa.com.