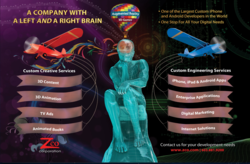 (PRWEB) September 13, 2012
From September 19 through September 20, 2012, Zco Corporation will be exhibiting in booth #506 at the 5th Annual 3D Entertainment Summit in Hollywood, CA. The company will be demonstrating the latest in 3D content, games, and augmented reality. Augmented Reality adds interactive elements to the world around a user through the use of a mobile device like a smartphone or tablet.
The 3D Entertainment Summit, located at the Hollywood & Highland Center, is a unique forum to engage, debate and define the latest developments in 3D. According to the Summit, it is the event of choice for the key players in 3D entertainment across theatrical, broadcast, television, gaming, advertising, and alternate content.
The 3D Summit is one of three tracks in an entertainment event, which also includes a MultiScreen (mobile) Summit and a Film Technology Summit. This year, panel sessions include "The New Global 3D Marketplace," "Exhibition Technology for 3D Motion Pictures," "Future of 3D at Home," "3D Hollywood Masters – What makes good 3D?" and "3D Live – Alternate Venues and Applications."
The 3D Entertainment Summit is hosted in association with Variety and co-produced by The Bob Dowling Group and Unicomm, LLC.
About Zco:
Zco Corporation specializes in custom development of mobile applications, 3D content, 3D games, and augmented reality, among other custom creative and engineering services. Zco provides 3D services in animation design, modeling, and rigging, as well as video editing and production and game development.
Founded in 1989, Zco Corporation serves Fortune 20 companies to small businesses as One Stop For All Your Digital Needs™. Zco is one of the world's largest developers of custom mobile applications and a veteran in the enterprise custom software industry. For more information on Zco Corporation visit http://www.zco.com/.