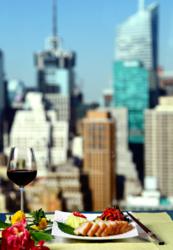 "Our main goal is to serve high-quality, authentic Korean cuisine, and the view is kind of like an extra gift for our guests," said Andy Sung, the owner of GAONNURI, the world's highest Korean Restaurant in New York City.
New York, NY (PRWEB) September 17, 2012
The authentic Korean food globalizes not just wider but higher. The numbers are impressive: GAONNURI, a new upscale Korean restaurant, boasts 270-degree panoramic views from Long Island to the Statue of Liberty on the 39th floor at 1250 Broadway, the property owned by Jamestown, not to mention 10,000 square feet of restaurant space. But the food is an even bigger story: Owner and architect Andy Sung and Executive Chef Tae Goo Kang (T.K.) will offer authentic Korean cuisine along with table cooking barbecue accompanied by a premium selection of boutique wines, cocktails and desserts surrounded by its spectacular views.
The new upscale Korean bar and restaurant, slated to open on Sept. 25 at the entrance of K-Town, will be the highest Korean restaurant in the world and the second highest restaurant in Manhattan. The restaurant was recently previewed in The New York Times Fall Restaurant Preview as well as New York Magazine and Thrilist. The menu, rooted in the authentic Korean tradition with the touch of modern style, includes Yukhoe (beef tartar) Bossam (steamed pork with raw oyster and spicy radish kimchi) Silver Cod Jorim (braised silver codfish in the house special sauce) and more. The restaurant has a full liquor license and will offer more than 50 wines and cocktails as well as traditional Korean alcohols, coffees and teas.
"The word 'GAONNURI' means 'the center of the world,' and this new sky-high restaurant truly feels like just that," said Sung, who was born in South Korea and came to New York 30 years ago. "Our main goal is to serve high-quality, authentic Korean cuisine, and the view is kind of like an extra gift for our guests."
Sung immigrated to New York City in 1982 to start his career as a contractor. While he was doing the construction on the 37th floor of this building 10 years ago, he came across the top floor, which was used then as a mechanical room surrounded with concrete walls. With the view from 38th floor, Sung could envision this top floor as a potential space for a bar or restaurant. His first proposal to the landlord for a restaurant was declined, but when the ownership changed seven years later, Sung submitted the proposal a second time. After a two-year approval process and another year of construction, GAONNURI was born. The investment for the process is approximately $5 million.
So Yeon Sung, currently an analyst at JP Morgan and the daughter of Andy Sung, is the restaurant's executive business operator. She went to Duke University and worked at Barclay before being recruited by JP Morgan two years ago.
Executive Chef Tae Goo Kang (also known as T.K.) launched his culinary career in Korea before encountering French cooking at the French Culinary Institute in SOHO in 2008. Since graduation in 2009, he has gained experience at a variety of renowned restaurants in the city, such as NOBU 57, 'Modern' at MOMA and L'Ecole. His authentic background in Korean cooking blends perfectly with the visual sensibility of fine French quality.
Unlike many Korean restaurants, desserts are not an afterthought at GAONNURI. Pastry Chef Sun Geum Kim, who also graduated from the French Culinary Institute and previously worked at Daniel, is in charge of the restaurant's sweet corner . Kim focuses on crafting homemade desserts, including homemade ice cream, flamed bombe Alaska and an assortment of Korean traditional sweets.
The entire ordering system will be through iPads synced with POS. Guests can view pictures of dishes on the iPad to place an order both from the concierge in the lobby and also inside the restaurant. GAONNURI exclusively offers two high-speed express elevators for its diners which bring them to a whole new world in just seconds.
About GAONNURI
Launched in 2012, GAONNURI is an upscale Korean bar and restaurant on the 39th floor penthouse of 1250 Broadway; it is the highest Korean restaurant in the world and the second highest in Manhattan. For more information, please visit http://www.gaonnurinyc.com/ or https://www.facebook.com/GAONNURINYC.
Contact Seolbin Park at PR(at)GAONNURINYC(dot)COM or 917-417-3249 with questions.