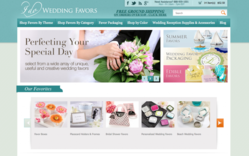 Our bridal customers will love the new capabilities of our website!
(PRWEB) September 18, 2012
IDoWedddingFavors.com, a specialty retailer devoted to the needs of brides planning their weddings, today announced the launch of its redesigned website. Built on an entirely new platform, and featuring capabilities developed in response to customer demand, the website marks the first phase in a dramatic product expansion to better serve the wedding favors marketplace.
The redesign effort took several months during which time the company examined consumer trends and traffic patterns. This research then spawned development work in conjunction with product partners to create a shopping experience which gives customers better control over the site navigation, personalization preview, and after-sale shipment status.
"We're excited about the new capabilities our design and development team crafted," shared Marketing Communications Manager Kelly Karrmann. "Planning a wedding is stressful enough, and if we can find ways to help our brides get the favors they want in a way that makes it simple and quick, then we have succeeded."
The new IDoWeddingFavors.com has nearly 1,000 unique products available. The site's new navigation was improved to make sorting through these options a much easier process. This was accomplished by giving clients the ability to quickly review and search within product categories, and see products grouped together in very logical ways.
Another key aspect of the enhanced design was to further develop the personalization capabilities for many of the favors offered, allowing customers to preview their personalized wedding favors before placing their order. This effort involved close cooperation with I Do Wedding Favor's vendor partners to allow seamless preview and ordering processes.
"The new design preview tools are fantastic – I am certain our bridal customers will love this capability," shared Charlsey Webster, Product Merchandising Manager. "We've changed the way customers shop on the site and created a much more user-friendly experience."
During the initial site rollout, the company is putting a focus on traditional wedding favor categories including seasonal themes (such as fall wedding favors), and personalized favor offerings. In the coming months, consumers will start to see new offerings that focus beyond just wedding favors.
About Us:
IDoWeddingFavors.com is a specialty online retailer of bridal shower and wedding favors. As a division of Hoffmaster Group, Inc. the team at IDoWeddingFavors.com puts a focus on helping brides plan their most special day. Every member of the IDoWeddingFavors.com team is devoted to helping hosts and brides plan budget-friendly, elegant wedding celebrations, making sure every customer feels like their event is special.