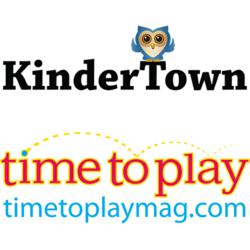 Malvern, PA (PRWEB) September 14, 2012
More than 44% of kids ages 6-12 are expected to request the Apple iPad this holiday season, making it one of this year's hottest playthings. Recognizing this trend, TimetoPlayMag.com, the number one source for all things play, has teamed up with KinderTown, the number one educational app store, to offer parents weekly video reviews of the best educational apps for kids. Beginning today reviews will be published at http://www.timetoplaymag.com.
In an exclusive partnership, KinderTown reviewers will write and star in short video reviews of their favorite apps. The videos will be regularly published on TimetoPlayMag.com, whose toy reviews are on pace to receive 80 million views in 2012. The partnership will expand the distribution of KinderTown's app store, furthering its mission to help parents find the best educational apps for their kids. The partnership is also welcome news to KinderTown-approved developers, whose apps stand to benefit from the increased exposure.
About the new partnership, Steve Welch, CEO and founder of KinderTown, said, "KinderTown values play-based learning highly and we look for it in all the apps we review. What excites us most about working with Time to Play is its belief that educational apps have become an important segment of a child's everyday play experience."
Jim Silver, CEO and editor-in-chief of TimetoPlayMag.com, added, "We have always prided ourselves on providing parents with the best information about toys, videos, electronics, and all things play. We couldn't ask for a better, more knowledgeable partner in the educational app space than KinderTown."
The launch of the partnership will include video reviews for iLearn with Boing: Savannah Adventures from Tribal Nova, Marble Math Junior from Artgig Studios, and ABC ZooBorns from Peapod Labs. Viewers can follow all future reviews, including an upcoming review for Early Ascent's Reading Raven app at timetoplaymag.com/kindertown.
About KinderTown, Inc.
KinderTown is an educational app store and teaching guide that helps busy parents find the best apps and activities for their young kids. Available as a free download for the iPad, iPhone, and iPod Touch, users have made KinderTown the highest ranked app discovery tool for educational apps. To download KinderTown, follow the link to the App Store at bit.ly/kindertown or start finding apps on the web at http://my.kindertown.com/apps
Based near Philadelphia, PA, KinderTown was founded by Steve Welch with the mission of improving early childhood education by empowering busy parents with the tools to be better teachers. For more information visit KinderTown.com.
About TimetoPlayMag.com
TimetoPlayMag.com is a playful destination website which provides information, entertainment, and services on what's fun for children and their families. One of the most highly trafficked family-friendly websites, TimetoPlayMag.com offers parents and gift givers comprehensive content including hundreds of toy reviews and recommendations; hot toy lists and editors' picks; a product/gift finder; informative and amusing blog entries from leading toy, family entertainment and parenting experts; seasonal stories; safety tips and recall information; daily giveaways of in demand toys and more. The site is fully COPPA compliant.
Over the past fifteen years, Silver, Byrne and their seasoned editorial team have accurately predicted each season's hottest, best-selling toys and correctly identified the industry's most prevalent product and financial trends.
Make friends with the Time to Play team online: Facebook.com/TimetoPlayMag, Twitter.com/TimetoPlay, YouTube.com/TimetoPlayMag.
Contact:
For KinderTown:
R. Brennan Knotts
KinderTown
(646) 580-2642
brennan(at)kindertown(dot)com
For Time to Play:
Josslynne Welch
Litzky Public Relations
(201) 222-9118, ext. 13
jwelch(at)litzkypr(dot)com